Navigation
Key
Words that are in BOLD face shows that it is an item
Words that are UNDERLINED shows that it is a location
R/B/Y Walkthrough - Viridian City/Viridian Forest
Getting Oak's Parcel
Now that you're in Viridian City, you may want to heal your Pokemon. After that, head to the mart, where a guy will give you Oak's Parcel, something to give to Prof. Oak. Don't even think about going into the gym, since it's locked. It is accessible only after you get the seven other badges. Now head back to Pallet Town, jumping over the low ledges to be quicker.
---
Back In Pallet
Go to Prof. Oak's lab, and hand him the parcel, which he reveals is a custom made Pokeball that he ordered. Gary will come in, and Oak will hand you both a Pokedex, and tell you another long and boring story. After that, you can go to Gary's house to get a Town Map from his sister. Then, it's time to head back to Viridian City.
---
Run, run, run!
Now that you're back at Viridian City, go to the PokeMart to get yourself a few Pokeballs to catch Pokemon. Do not go back to Route 1 to catch Pokemon, since those Pokemon are weak. There are a lot more of stronger Rattata and Pidgeys on other routes. Now, it's time to fight Gary.
---
Route 22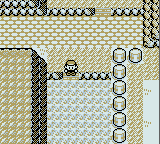 Go west of Viridian City, and you'll be on Route 22. This route is short, and leads to the Pokemon League. But you can't go there yet, you'll need to have the eight badges. The only thing you can do on this route is catch a few Pokemon, and battle your rival, Gary. This is your second battle with Gary since the start of your journey. He'll have a lv. 9 Pidgey, and a starter Pokemon that has an advantage over your starter Pokemon. The Pidgey will be easy to defeat, but his starter will be harder. After you beat Gary, go back to the mart to get some more balls.
---
Route 2 is quite short, and cannot be fully accessed until later in the game. After walking in Route 2 for a while, you'll soon reach the Viridian Forest, a maze of trees full of bug Pokemon and a few trainers hoping to battle you. This is when a Charmander or a Pidgey or Spearow comes to good use. After catching a few bug Pokemon, you'll arrive in Pewter City.
Items
Oak's Parcel
PokeDex
Town Map