Information
Publisher:
Nintendo
Developer:
Game Freak
Platform:
Game Boy Color
Genre:
RPG
Players:
1
Supports:
Game Link Cable
Infrared Port
Game Boy Printer
Transfer Pack
Mobile GB Adapter (JP)
Release:
July 30, 2001 (US)
Crystal - Preview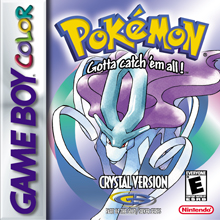 Pokemon Crystal, also known as Pokemon X in Japan, is a new game. A special game. Almost the same thing as Pokemon Gold/Silver, except with a few extra features. It is just like Yellow, following Red/Blue. The main Pokemon in Crystal is Suicune, one of the three legendary dogs, also appearing in Celebi, A Timeless Encounter.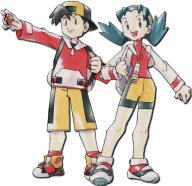 First, you can trade through a cellphone in Pokemon Crystal with the help of the Mobile GB Adapter. That means you can trade with someone in a different state, or even a different country! That also means you'll have to beg your parents for the cellphone (unless you have one yourself), and it cost a few cents to trade each time, too. In Japan, almost everyone has a cellphone, since they are cheap. Over here in USA, well, people just don't have as many cellular phones. Nintendo has confirmed that the Mobile GB Adaptor will not be put on to work in Crystal. This is a huge change, since Crystal in Japan's reason is to work with the adaptor. *SIGH*
There are animation added to the Pokemon characters. Look at the diagram below, and you'll see.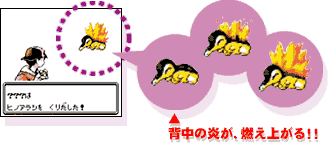 Cyndaquil will be able to animate the flame on its back. The older Pokemon games (R/B/Y/G/S) can't do that. All you will see is a motionless image of a Pokemon. But this animating won't be too exciting, since it only animates for around 3 seconds in the beginning of the battle. Then, for all you girls who have played all the versions of Pokemon and wished that you were actually a girl, you're in luck. In Pokemon Crystal, you can actually choose between being a boy or a girl. So finally, girls can be girls, and boys will always be boys. I bet it will be a very cool game.
There is an all new Battle Tower just down the coast from Olivine City. Waves of Pokemon trainers would be happy to kick your butt, well, if your un-experienced, that is. Defeat several consecutive trainers to win a valuable item. The Goldenrod City Department Store has an all new rooftop marketplace that keeps sporadic hours. Different Pokemon are available at the Celadon City Game Centers and Goldenrod City.In the Tin Tower, north of Ecruteak City, you'll find a group of three old men standing sentinel over a Suicune. Defeat them to get a chance to capture the Suicune, and you'll also meet Eusine, a trainer with a most unusual interest in Suicune.
New characters includes the PokeSeer, who can tell you where and when you obtained a Pokemon and how happy it is, and the Move Tutor, who appears outside the Game Corner in Goldenrod City after you've squared off against Red in Mt. Silver. The Move Tutor can teach very cool abilities, but it's quite expensive!
New Stuff (Compare to Gold/Silver)
Choose to be a boy or girl
Locations and frequencies of Pokemon have greatly changed
Catch Pokemon #251, Celebi (JP)
Trade Pokemon through a real cellphone (JP)
Pokemon are animated during the start of battles
Seperate boy and girl PokeGears and Poke Packs, different phone calls too
The Unown puzzles have changed
Some areas show more color
When you enter a new route or city, a wooden box pops up to tell you what route or city you're in