Navigation
Key
Items are BOLD.
Locations are UNDERLINED.
Pokemon Diamond, Pearl, Platinum Walkthrough:
Pokemon Diamond, Pearl, Platinum Walkthrough
Twinleaf Town
Route 201
Lake Verity
An Adventure Begins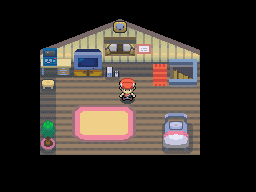 The game begins with an introduction to Pokemon from Professor Rowan. He gladly clears up any questions you have about Pokemon and forces you to push open a PokeBall on your touch screen, revealing a Munchlax. As always, you are asked to choose your gender (for this walkthrough, the boy is chosen), pick a name, and choose your rival's name (which is just Rival from now on). Soon after, you are shrunken into the world of Pokemon in the Sinnoh region and placed into your room, where it all begins...
In the beginning, you watch a television program on the Red Gyarados. In Platinum, Rival comes up and talks to you for a while. Explore your small room while you're still here -- this adventure will take you away from home for a very long time. Go downstairs and you see your mother, who tells you that Rival wants to see you. As always, walk out of your house and see your beautiful, little town -- Twinleaf Town. Your house is at the bottom-right corner and Rival's house is at the top-left corner. As you try to enter his house, he'll come out in a hurry and quickly go back in. Follow him up to his second floor. He tells you he's going to the lake, but doesn't specify his reasons. Interested, you try following him and meet him yet again at the entrance of Route 201. It turns out that he had also watched the show on Red Gyarados and wants to find it.
In Platinum, the two of you bump into Professor Rowan. Tell him you truly love Pokemon twice. Afterwards, Dawn, the girl character (the boy character if you chose to be the girl) joins the three of you, bringing with her a briefcase from which you choose your first Pokemon!
Red Gyarados in the Lake?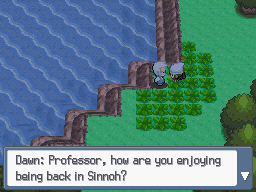 You'll lead the way to Lake Verity by going through Verity Lakefront, west of Route 201. Rival will follow closely behind you. Entering Lake Verity, you'll find Professor Rowan and his assistant, Dawn, having a conversation by the lake. They go away soon, leaving behind a suitcase, which you and Rival curiously try to examine. Before you can do that, however, two wild bird Pokemon, Starly, come over to attack the two of you. Luckily, you discover three PokeBalls in the suitcase. This is where you choose your starting Pokemon, so choose wisely! The PokeBalls contain the following three Diamond/Pearl starters:
Choose Your Pokemon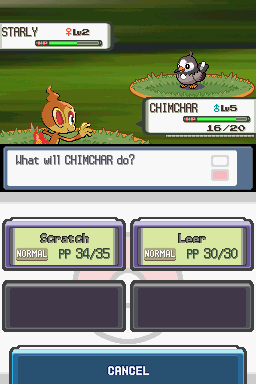 Any Pokemon is a good choice -- at least you have one to defend yourself in this frantic situation! Luckily, these are only lv. 2 Starly, which you can easily defeat with your newly owned Pokemon (although it's not really yours yet). After your first Pokemon battle, your Pokemon will have gained its first bit of experience. It turns out that Rival had chosen one of the other starters that has a type advantage over yours. For example, if you chose Turtwig, then Rival chose Chimchar.
At this point, Dawn comes over, seemingly very nervous that she had forgotten about the suitcase and that you and Rival have already used the Pokemon inside. She'll quickly leave with the suitcase and the two of you must also go back. On your way back, you'll see Professor Rowan and Dawn again. Professor Rowan seems a bit upset.
In Pearl, this entire sequence involving going to Lake Verity is deferred (see below). After selecting your Pokemon from the briefcase, Professor Rowan and Dawn will go away, leaving you and Rival for your first Pokemon battles! After this battle, your new Pokemon will likely level up to level 6.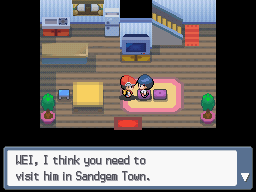 Afterwards, you are back inside your house, talking to your mom about the exciting little journey you had just gone through. She'll tell you to visit Professor Rowan in Sandgem Town and will give you a pair of Running Shoes to make your journey easier. You can now run by holding down the "B" button while moving around on the directional pad! So, exit your hometown once again, going north on Route 201.
In Platinum, you and Rival will go to Lake Verity at this point. A mysterious Cyrus is seen talking to himself. Rival tries to talk you into trying to catch the legendary Pokemon he's so excited about, but realizes neither of you have PokeBalls. Without being able to do much more here, it's time to visit Professor Rowan.
---
Route 201
There isn't much on Route 201 except for a lot of wild Pokemon. There is, however, a girl you can talk to on the way who'll give you a Potion. You'll notice that your Pack is neatly divided into Items, Medicine, PokeBalls, TMs & HMs, Berries, Mail, Battle Items, and Key Items. You can take your time now to begin training your Pokemon. Remember, you can always heal your Pokemon by going back to your house and talking to your mom.
Keep on walking north and you'll arrive at Sandgem Town.