Navigation
Key
Items are BOLD.
Locations are UNDERLINED.
Pokemon Diamond, Pearl, Platinum Walkthrough:
Visiting the Professor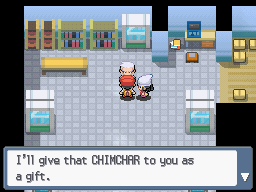 Upon arriving at Sandgem Town, Dawn greets you and takes you to the Professor's lab, which is right near the entrance. Apparently, Rival got there before you; he comes out of the lab and leaves. Inside the lab, Professor Rowan talks to you for a bit and gives you the Pokemon you chose earlier. In addition, he gives you the incredible and exciting task of journeying through the Sinnoh region and recording all the Pokemon you encounter on your new Pokedex.
After leaving the lab, Dawn will give you a tour around town. In Platinum, she'll give you TM 27 - Return. Now you're almost free to go wherever you want, except you must pay your mom a final visit before setting off on your journey. Before that, however, you should heal your Pokemon at the Pokemon Center and stock up on items at the Pokemon Mart. Go directly south to Route 219/Sandgem Beach to pick up an itemball containing an Antidote. After that, you should head back to Twinleaf Town.
Goodbye Twinleaf Town!
Back home, your mom is excited to hear that you'll be taking on the great task Professor Rowan had handed to you. She gives you a Journal used for recording your daily events. Rival's mom then comes in and asks you to give a Parcel to Rival, and tells you he's probably gone to Jubilife City. Now it's time to leave your home and begin your journey!
---
Route 202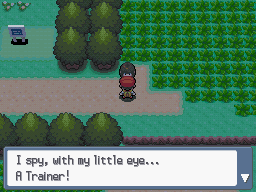 You'll arrive on Route 202 by going north of Sandgem Town. There, Dawn will show you how to catch Pokemon and give you five PokeBalls. What's more exciting is that you'll be battling other trainers for the first time here. There is a Potion for you to pick up in the northern end of Route 202. Very soon, you'll arrive at Jubilife City.