Navigation
Key
Items are BOLD.
Locations are UNDERLINED.
Pokemon Diamond, Pearl, Platinum Walkthrough:
Floaroma Town
Route 205
Floaroma Meadow
Valley Windworks
Fuego Ironworks
Eterna Forest
Town of Flowers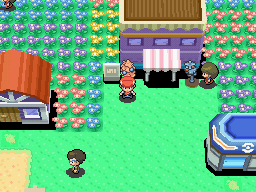 Floaroma Town is a beautiful little place filled with colorful flowers and a lot of items to pick up. You'll see two Team Galactic members standing between trees; we'll worry about them later. A little girl in the small house north of the Pokemon Center will give you TM88 - Pluck. Next to that house is a flower shop. Outside, you can pick up an Oran Berry and a Cheri Berry. Inside the shop, the lady on the left will give you a Sprayduck to water Berries that you grow. The lady on the right will give you a different Berry every day. The lady at the top will trade you Accessories for your Berries. Now that you've done all that there is to do at Floaroma Town, go east onto Route 205.
---
Route 205
There are two Berries for you to pluck right away: Chesto Berry and Pecha Berry. Then, you'll bump into a little girl asking you to help her father, who is held at Valley Windworks by Team Galactic. So, head east to Valley Windworks. You can pick up a Potion outside the building. After learning Surf, you can surf behind Valley Windworks to pick up TM24 - Thunderbolt. Battle the Galactic Grunt blocking the entrance to the building. Afterwards, he'll lock himself inside the building with a Works Key, and tell you that his pals in Floaroma Town have the other key. Go back into the northwest section of town in the flower patch and go in between the trees, where the two Team Galactic members were standing before.
---
Floaroma Meadow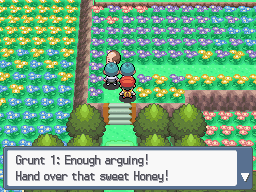 You'll enter Floaroma Meadow, where you'll find two Galactic Grunts threatening a man for Honey. They then battle you one by one. The man you rescued will give you the Works Key they dropped and also Honey, which is used to attract Pokemon from a sweet-smelling tree. An example of a tree like this can be found next to the house if you go east. With your key, go back to Valley Windworks.
---
Valley Windworks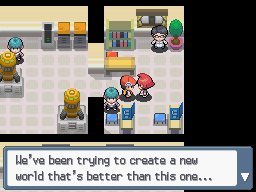 Inside the building, you'll fight through a few Galatic Grunts (all of which you can avoid one way or another). Approach the red-haired woman, Mars. She is one of the commanders of Team Galactic and will battle you. After the battle, Team Galactic will leave, and the little girl's father walks over to thank you.
Now that you've gotten rid of Team Galatic for the moment, head west onto Route 205 and cross the bridge. As you walk north and battle trainers, you'll pick up a X Attack, a PokeBall, and two Berries. Before you get to the Berries, you can find a hidden Antidote in the center of the tiny raised platform. After that, you'll pick up a Repel and a Super Potion. The lady inside the little red house can heal your Pokemon. Keep on going north, and you'll enter Eterna Forest.
---
Fuego Ironworks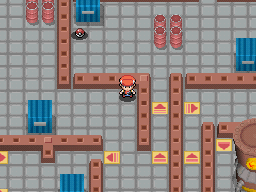 After learning Surf, you can surf north-west from Route 205 to get to Fuego Ironworks. There a building with a bunch of Berries outside. Inside the building are a bunch of switches that propel you around, trainers (Workers, actually), and items. The switches will send you spinning in the direction they're pointing to. You'll be able to pick up a Burn Heal, a Fire Stone (at the north-east corner), and a Rock Incense. At the center of the building is Mr. Fuego, who'll give you another Fire Stone. Next to him is TM35 - Flamethrower.
---
Eterna Forest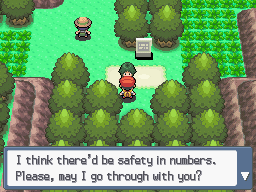 After learning Cut, you can skip the forest by taking the path on the right side of the entrance. Go north, cut the tree, and talk to the girl you see. She'll give you a Big Tree Accessory. There are also plenty of Berries to pick north of the girl. You'll be able to pick up TM82 - Sleep Talk and SilverPowder south of the girl. Keep on going in the north-east direction to come out the other side of the forest.
Upon entering the forest, a girl named Cheryl will ask to walk with you due to fear of Team Galatic. As you battle trainers in Eterna Forest, she'll battle alongside you, using a lv. 15 Chansey. Her Chansey heals your Pokemon after every battle. First, go west a bit to pick up an Antidote, which you'll probably need in a forest filled with Bug and Poison type Pokemon. Go back to where you started and head north. You'll have a double battle with a Bug Catcher and a Lass. Pick up the Parlyz Heal and you'll have another double battle with Psychics by going south. You'll find a Great Ball at the end. Go all the way east and pick up a Potion. Go all the way north. Along the way, you'll find a Honey that's covered by the tall grass. In Platinum, Cheryl gives you a Soothe Bell at the end for walking with her.
After learning Cut, you can cut the tree and explore the Old Chateau. Beside the creepy looking house is an Ether. After entering this haunted mansion, go straight into the door under the staircase. The trash can in the left room contains an Antidote. Go back and go up the stairs and go into the room on the left to pick up an Old Gateau. Now go through the center door, which leads you to a long hallway of rooms. The first room contains a Dead Plate and the last room contains TM90 - Substitute.
Get out the mansion and go east a bit to exit the forest.
Almost There...
After exiting Eterna Forest, you'll continue your journey on Route 205. There are plenty of Berries to pick up behind the pond and a hidden Honey in the empty square next to them. Go south past the bridge with all the Fishermen to pick up a Potion, or a Guard Spec. in Platinum. Finally, you'll arrive at Eterna City!