Navigation
Key
Items are BOLD.
Locations are UNDERLINED.
Pokemon Diamond, Pearl, Platinum Walkthrough:
Back For a Rumble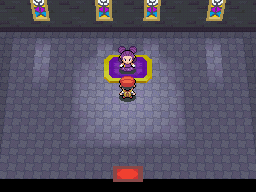 The only point in coming back to Hearthome City is to fight in the gym. Trainers in the Hearthome Gym uses Ghost Pokemon. Upon entering the gym, walk straight up and let the elevator take you up. This gym contains simple math questions. If you get it right, you get to go to the next level; otherwise, you fight a trainer. Press "A" against the sign to find out the question. If you want to answer the question correctly (you might not want to if you want to battle trainers), choose the door corresponding to the correct answer. After picking the correct door, you'll go through three more of these types of puzzles.
Fantina is the Gym Leader and her Pokemon are relatively powerful. She uses a lv. 32 Drifblim, a lv. 34 Gengar, and a lv. 36 Mismagius. However, they are considerably weaker in Platinum since it comes much earlier. In Platinum, she uses a lv. 24 Duskull, a lv. 24 Gengar, and a lv. 26 Mismagius. However they have a weakness against Dark types and Ghost types. A Pokemon strongly recommended is a Luxray. It can take out her Drifblim with Spark or other electrical attacks, while for the other two use Bite. Fantina's strategy using Drifblim is using Gust, and Ominous wind. Her Gengar mainly uses Poison Jab. Finally her Mismagius sometimes uses Magical Leafs and Shadow Ball. If your starter was Turtwig and you taught it Bite, plus another good level Pokemon with Bite should be enough. All Pokemon should be lv. 30+. After defeating Fantina, she'll award you with the Relic Badge, which allows your Pokemon to use Surf outside of battle. In Platinum, it only allows you to use Defog outside of battle. In addition, she'll give you TM65 - Shadow Claw.
When you go out of the gym, Cynthia comes to talk to you. Now that you can Surf, there are many previously inaccessible sections you've been to that you can now visit. Details can be found in earlier pages. As Cynthia suggested, you should go to Canalave City, which can be reached by going west of Jubilife City. So, fly over there and go west onto Route 218. Before you do, you might want to pick up the Memo Pad, Marking Map, and Link Searcher applications for your Poketch at the Poketch Company. Talk to the President, who stands next to the counter on the first floor.
---
Route 218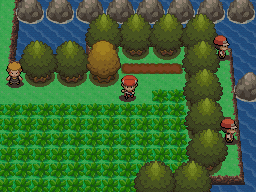 The first thing you might want to do on Route 218 is to surf north a little to hop onto land to pick up a Rare Candy. Surf in the south-west direction, pick up a Honey, and battle the two Fishermen. If you go west, you'll reach land and be able to battle some trainers and pick some Berries. Go into the border building, and Professor Rowan's assistant will update your PokeDex so it can distinguish between male and female Pokemon. On the other side is Canalave City.