Navigation
Key
Items are BOLD.
Locations are UNDERLINED.
Pokemon Diamond, Pearl, Platinum Walkthrough:
Pokemon League - The Pinnacle of Trainerdom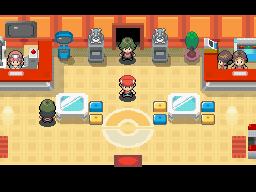 Once outside of Victory Road, head north up the large waterfall, and you'll arrive at the Pokemon League. Inside the building, you'll face the Elite Four in battles to put your all the training you've done to the test. Before you approach the person blocking the doorway, heal your Pokemon and stock up on items. A PC is downstairs on the right side if you need to switch Pokemon or anything. Once you're absolutely ready, go up to the person blocking the doorway and Rival will come over to battle you. He's much stronger now than before, so be careful. After defeating him, talk to the person blocking the door, and he'll let you in to battle the first of the Elite Four after verifying all your Gym Badges.
---
Elite Four Aaron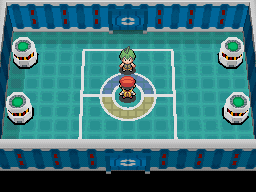 Aaron specializes in Bug Pokemon.
Elite Four Bertha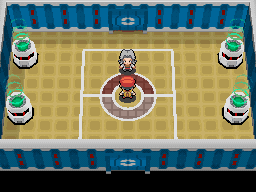 Bertha specializes in Ground Pokemon.
Elite Four Flint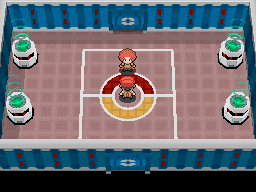 Flint specializes in Fire Pokemon, although only two of them are Fire-type.
Elite Four Lucian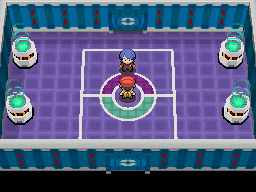 Lucian specializes in Psychic Pokemon.
After defeating all of the Elite Four, you still have one more challenge: the Champion. Surpringly, it turns out to be Cynthia. Before you go into the next room, make sure to heal your Pokemon using your items and save; once you walk in the room, you will be forced to battle.
Champion Cynthia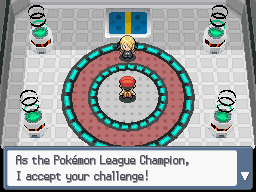 Cynthia uses a variety of Pokemon.
---
Fin
After defeating Cynthia, you'll be taken to the Hall of Fame by Cynthia and Professor Rowan. Here, you'll register yourself and your Pokemon, to be recognized as Champions and gain eternal glory. The game will save, the credits will scroll, and you'll go back to Twinleaf Town, where it all began.
Although the game has officially ended, there's a lot more to do! For other things you can do, check out our Sidequest FAQ. Thanks for reading this Pokemon Diamond and Pokemon Pearl Walkthrough!