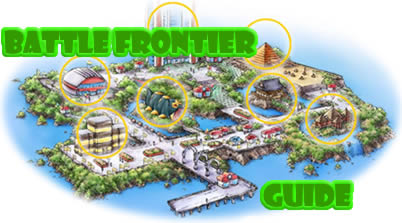 Ver 0.9
Liam Brennan
This Guide is to help players who are having difficulty with anything concerning the Battle Frontier, whether this is actually getting there to fighting the actual Frontier Leaders. This guide is mainly written from personal experience or information I have picked up. I hope this guide is a help to anyone who is having difficulties with the game.
Please choose the section of your interest below:
---
CREDITS
Myself
Thanks to the owner of Serebii.net for certain info on the Battle Frontier
Contact me, at my email if you have any comments or contributions to this guide at...
Note to all those who email me:
I am more than likely to respond to your emails as I am very interested to hear your comments and hear constructive criticism. If I do not respond it is more than likely to be a computer error rather than anything else. Also to people who are asking for help I am more than willing to help even if it is on a topic outside of this guide unless I get swamped. Keep in mind you are much more likely to receive a response to something directly about this guide as those are the emails I prefer. It is also worth noting that I am not accepting contributions for this guide nor am I likely too in the future. I am pleased at the current steady and relaxed pace this guide is being developed in and do not require any help, at least at the moment. If a site wishes to use my guide read the paragraph concerning copyright. I will allow it's use on other sites permitting that I have given permission. This Guide currently has had permission to appear on these sites:
www.gamefaqs.com
www.neoseekers.com
www.pokedream.com
Guide Written By Liam Brennan (Ultima Sabre)
Copyright 2005 Liam Brennan
This may be not be reproduced under any circumstances except for personal, private use. It may not be placed on any web site or otherwise distributed publicly without advance written permission. Use of this guide on any other web site or as a part of any public display is strictly prohibited, and a violation of copyright.