Navigation
Key
Pokemon names with normal text color can only be found in both versions.
Pokemon names with this color are exclusive to FireRed.
Pokemon names with this color are exclusive to LeafGreen.
Pokemon FireRed/LeafGreen Walkthrough:
• Six Island, Green Path, Altering Cave, Ruin Valley
Six Island
Six Island is also known as Fortune Island. This is a pretty large island, and takes some time to explore. First go behind the Pokemon Center for a hidden Leppa Berry. Then head north into the Water Path. After that, you'll find yourself in the Green Path, and soon, the Pattern Bush. Your final mission is to find the second password to the Rocket Warehouse.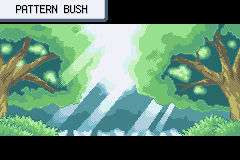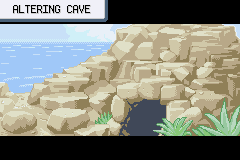 Pattern Bush is a part of Green Path. It's a sort of forest with a ton of wild Pokemon and trainers. You want to go to the southwest corner of Pattern Bush to get out. After you do, surf north. You'll be going through a group of islands called Outcast Island, and soon you'll reach a cave with a Rocket member standing outside. This is the Altering Cave, and the only Pokemon inside are Zubat. However, the Pokemon changes if you use Mystery Gift. There isn't much to do here except for catching the Pokemon in the cave. Now either fly back or walk back to Six Island.
Go east and then south into the patches off grass. Look around in the empty spots in the grass for Berries. Surf straight down for a Dragon Scale. Surf up a little, go on land, head west, and you'll be in Ruin Valley.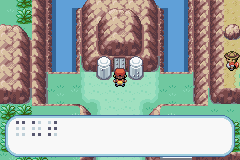 Ruin Valley is pretty short, and is easy to get through. Eventually, you want to get to the place shown on your left. Use Cut to open the door, and you'll get into the cave, called the Dotted Hole. The first step is to jump into the hole. Afterwards, take the north hole, west hole, east hole, and south hole to reach what you've been searching for: the Sapphire gem. After getting it, a Team Rocket scientist comes, takes your gem, and tells you the second password: "Yes, nah, Chansey". Now that you know the other password, head to Five Island.