Navigation
Key
Words that are in BOLD face shows that it is an item
Words that are UNDERLINED shows that it is a location
Pokemon names with no color can only be found in all versions
Pokemon names with a GOLD color can only be found in the Gold version
Pokemon names with a SILVER color can only be found in the Silver version
Gold/Silver/Crystal Walkthrough - New Bark Town/Route 29
Pokemon Gold/Silver/Crystal Walkthrough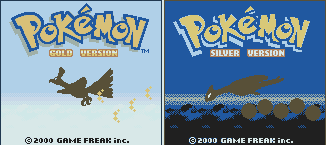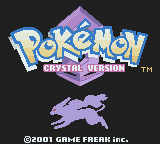 Starting The Game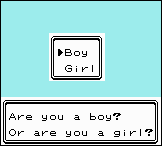 Before you begin the game, there are a few things that'll happen. First, you see the intro, quite insteresting ones for Gold/Silver/Crystal. Then choose the "New Game" option. First, you choose the time. The default time is 10:00 AM. The image to your left is the new feature of the Crystal version, choosing to be a boy or girl, which comes before choosing the time. This is the main feature for the English version of Pokemon Crystal, but it doesn't effect the game. You will listen to Professor Oak talk for a while. Then, choose your name. You either choose a pre-selected name, or make your own.
Your adventure starts in your bedroom, as usual. You'll need to walk down the stairs, and talk to your mom. First, she'll ask you for the date, and whether it's Daylight Savings Time. The default day is Sunday, but you can change the time to the time you wish. Why set a clock? Because some Pokemon only appears at certain times, that's why. After that, she'll give you the PokeGear.
Choose Your Pokemon
Next, leave your house and go to the huge labratory, where Professor Elm, the professor of G/S/C, waites for you. You'll be able to choose the three new starters: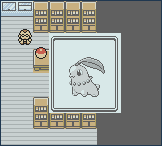 #152: CHIKORITA (Grass)
The succesor of Bulbasaur. A cute little Pokemon, but just not strong enough. You really need skills to put the money on this dude! The experience level is EXPERT, so as I say once again, it is sort of impossible to choose Chikorita and want to beat other people.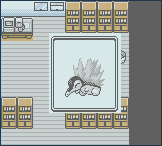 #155: CYNDAQUIL (Fire)
Cyndaquil is the best choice. The experience level is EASY. My Cyndaquil evolved into a Typhlosion in two hours. Anyone can go with this Pokemon and beat the heck out of their opponents. A Brock-type Pokemon with small eyes, but certainly the best choice if you want to kick some butt!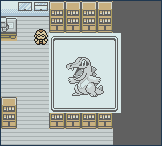 #158: TOTODILE (Water)
This Pokemon is Squirtle's follower, and is also a pretty jolly Pokemon. The experience level is MEDIUM. This is a Pokemon who will lead you through the game nice and good, so this can be a good choice for a starter.
Choose one (I chose Cyndaquil, which is the easiest to go for), rename it if you wish, and it's yours! Prof. Elm will then exchange phone numbers, and he'll tell you to go and find his friend, Mr. Pokemon. He will also tell you that the machine at the top left-hand can restore your Pokemon's HP. It is very useful, since many times your Pokemon will get knocked out. Prof. Elm's lab is a hot spot for special items, and abilities. But it takes time to get them. You'll get your chance throught the game. Below is a table showing what good stuff you can get.
Potion: Before you leave for your quest, you can obtain a Potion from Professor Elm's assistant.
Pokeball x5: After you deliver the Mysterious Egg to Professor Elm, he'll give you 5 pokeballs displaying his grattitude.
Everstone: After you hatch Togepi, take it to the good ol' Professor to earn yourself the Everstone.
Master Ball: After you win all eight Johto Gym badges, Professor Elm will award you with the Master Ball!
S.S. Ticket: Defeat all the Elite Four, and earn yourself the S.S. Ticket.
Before you go outside of town, you might want to look around. There isn't much to look at, though. But you will find this dude sneaking behind Professor Elm's lab. He is your soon-to-be rival. When you talk to him, he'll push you away.
Finally, you go outside and start your journey!
---
You'll soon arive at Route 29. There are some Pokemon here, but you can't capture them of course, since you don't have a Pokeball yet. On Tuesdays, there is a girl named Tuscany that will show up. She has brothers and sisters who will also show up on certain days during the week (Monica of Monday, Wesley of Wednesday, Arthur of Thursday, Frieda of Friday, Santos of Saturday, and Sunny of Sunday). They give you special items that you can attach to your Pokemon that increase a certain attack depending on the item. These names will come up in the walkthrough. Tuscany will give you a Pink Bow which increases normal-type move points.
Locations (Route 29)
Crystal Locations