Navigation
Key
Words that are in BOLD face shows that it is an item
Words that are UNDERLINED shows that it is a location
Pokemon names with no color can only be found in all versions
Pokemon names with a GOLD color can only be found in the Gold version
Pokemon names with a SILVER color can only be found in the Silver version
Gold/Silver/Crystal Walkthrough - Cherrygrove City/Route 30 and 31
Cherrygrove City
Talk to an old man just when you're about to enter the city. He has been a Pokemon Trainer for a long time, so he knows a lot about the world. Take his tour of Cherrygrove City, and he will give you the Map Card Add-On, which will be accessible through your PokeGear. This city has no gym, but does have a Pokemon Center and a shop. You cannot purchase a Pokeball yet until you visit Prof. Elm to deliver the egg.
---
Go North until you come to a house. Inside this house a man who knows all about Cherrygrove City Berries, and will teach you how to use them. You will encounter many different types of berries throught your journeys, so it's essential you talk to this man about them.
After exiting that house, turn west and go up north on a path. You'll meet the following trainers after delivering the egg to Prof. Elm: Joey, Mikey, Don, and Wade. Their Pokemon levels around 2-4, so it won't be so difficult to beat. Joey and Wade will give you their phone numbers, if you talk to them after battling.
Locations (Route 30 and 31)
Crystal Locations
Locations (Dark Cave: Route 31 Entrance)
Mr. Pokemon
Mr. Pokemon will introduce himself, and then Prof. Oak will give you a high tech Pokedex. Mr. Pokemon posses's a strange egg for Professor Elm to study, so you must carfully carry back to him to his lab in New Bark Town. Return to Mr. Pokemon's house later on after you collected the Red Scale and he'll give you the Experience Share item as an award. Professor Oak hurries off to Goldenrod City. Exit the house, and Prof. Elm will call you, telling you to go back to New Bark Town.
Your Rival
Just as you're about to leave Cherrygrove City, a red-haired boy called ??? will battle you. He is your soon-to-be rival. His Pokemon will have an advantage over your Pokemon. Your soon-to-be rival has stolen one of Elm's Pokemon. A police officer is in the lab with Prof. Elm. Now tell him the dude's name.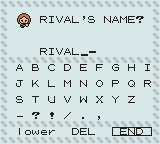 You'll need to choose your rival's name now. A good name like Chuck or Bob will do, or a bad name, something from the category of foul language. Believe me, most people call their rivals bad names! After that, Professor Oak tells you to visit your mom.

A scientist will give you five Pokeballs (Yay!) as you leave. Now go visit your mom, and she'll ask you if you would like her to keep some of your money just in case you "white out". A guy named Dude will want to show you how to use your new Pokeballs to catch Pokemon. Let's forget him, since we already know how, and go on. Now that you can catch a few Pokemon, look for Pokemon with higher levels to capture.
Items
Map Card
High Tech Pokedex
Mystery Egg
Pokeball (5)