Navigation
Key
Words that are in BOLD face shows that it is an item
Words that are UNDERLINED shows that it is a location
Pokemon names with no color can only be found in all versions
Pokemon names with a GOLD color can only be found in the Gold version
Pokemon names with a SILVER color can only be found in the Silver version
Gold/Silver/Crystal Walkthrough - Violet City/Ruins Of Alph/Route 32
The Violet Gym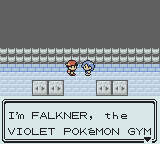 Once you arrive at Violet City, go to the gym. There, you'll first battle a few weak dudes, and then the gym leader, Falkner. He uses bird Pokemon, and are quite easy to defeat. Defeat Falkner to get $900, and TM 31 - Mud Slap. It will also allow you to use Flash anytime. Finally, you get your well deserved Zephyr Badge. It's one more step to becoming a Pokemon Master!
Mysterious Egg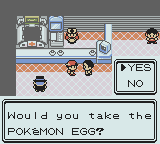 After that, Prof. Elm will call you to tell you about a Mysterious Egg (Togepi). A scientist will show up in the Violet City Pokemon Center, and will ask you if you would like to take the egg. Of course, say yes and take the egg (you must have 5 or less Pokemon). You must take this egg, or else a man won't let you out of the city. You'll have to walk for quite a long time before it comes out.
Bellsprout For Onix
A house in Violet City has a person who wants to trade an Onix for a Bellsprout (let's just hope that you've caught one of those already). The level of the Onix is the same with your Bellsprout.
Battle of the Monks
Head north-east and you'll find the Sprout Tower, where the central beam is swaying around. There, many Sages (monks) with Bellsprout and some with Hoothoot will battle you. At the top of the tower, you'll rival beats the head Sage (called Sage Li), and talks to you. Defeat the Sage Li, and he'll give you HM 05 - Flash.
Locations (Sprout Tower)
Crystal Locations (Sprout Tower)
Same As G/S
---
Next you will want to head west of Violet City to the Ruins of Alph, an archaeological site over 1,500 years old. Pass up the first cave entrance you see and keep going north past the Alph Lab (the little building) to the next cave entrance. Inside you'll find the first Alph puzzle that you'll have to put together. The first one is Kabuto, and when you've completely assembled it, the floor will fall below you and you'll fall down into a large room. Walk around and you'll find a lot of wild Unown. Catch 3 different shapes of Unown to bring to the Pokemon researchers in the Alph Lab.
Exit the cave after you've caught your 3 different Unown. Go to the Alph Lab just outside the cave exit. The scientist there will give you an upgrade for your Pokedex which will show you what different Unown shapes you've caught.
In Crystal, there are treasure rooms coming from the Puzzle Rooms. You must look at the spelled out Unown words, and put them together. They tell you things that you need. Use Escape Rope in chamber; attach Mystic Water to lead Pokemon while in chamber; use Flash while in chamber; Move Ho-oh to the lead Pokemon spot in chamber. Doing this will bring you to the treasure room, where you'll find four treasures.
Locations (Ruins of Alph: Outside)
---
On Route 32, you'll encounter a lone Pokemon Center, with a Fishing Guru inside. Talk to him, and you'll get an Old Rod. Continue on and you'll pass through a cave (Union Cave's the name) with many trainers and rock Pokemon inside. TM 39 - Swift can be found on the lower level of Union Cave. Lapras will be hiding deep in the cave on Friday nights if you have Surf. After getting Cut later in the Ilex Forest, come back and talk to this person. He'll give you TM 05 - Roar.
Locations (Route 32 and 33)
Crystal Locations
Locations (Union Cave)
Crystal Locations
Same As G/S
You will then pass by a Route 33. Frieda will come out on "Frieda of Friday". She will give you a Poison Barb.
Items
Zephyr Badge
TM 31 - Mud Slap
Mysterious Egg
Potion
HM 05 - Flash
Old Rod
TM 39 - Swift
TM 05 - Roar
Poison Barb