Navigation
Key
Words that are in BOLD face shows that it is an item
Words that are UNDERLINED shows that it is a location
Pokemon names with no color can only be found in all versions
Pokemon names with a GOLD color can only be found in the Gold version
Pokemon names with a SILVER color can only be found in the Silver version
Gold/Silver/Crystal Walkthrough - National Park/Route 36 and 37
Get Rollout
Before National Park, there is a path through the grass that you can take to get the move that Miltank used to destroy you. That's right, it's TM 04 - Rollout.
National Park
Walk a little after getting Rollout, and you'll find yourself at National Park, located on Route 35. Here, you'll find many trainers, and tons of bug and flying Pokemon. A Bug Catching Tournament is held every Tuesday, Thursday, and Saturday. To enter you have to talk with one of the guys standing by the doors of either entrances. You can only use one Pokemon for the tournament, so you better choose a good one (a fire-type would be an excellent choice) and put that Pokemon first. The contest is free, and you'll recieve 20 Park Balls (kind of like Safari Balls) for catching the bug Pokemon. However, if you press Start at anytime, the round will end once you go back to playing.
To win the tournament, you'll need to capture high-level Pokemon such as Scyther since they are worth a lot of points. The number one prize is the Sun Stone. Here are the Pokemon you will find in the contest:
Locations (Route 35)
Crystal Locations
Locations (National Park: Bug Catching Tournament)
Crystal Locations
Same As G/S
Locations (National Park)
Crystal Locations
Quick Claw
Talk to a girl with a Pokemon sprite next to her on a bench inside National Park. She'll give you Quick Claw. A Pokemon carrying this will usually allow it to attack first.
And outside of National Park, you will find TM 28 - Dig. Also outside of National Park, you'll find Suicune in Crystal. Go up to it, and it'll run away.
---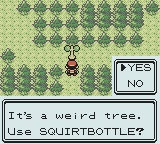 Remember that weird tree that shakes when you press "A" on it? Well, one of them is actually a Sudowoodo! After the third gym there was a house right outside the gym. Inside the house is a girl who will give you a SquirtBottle. Use the SquirtBottle on that wiggling tree, and Sudowoodo wakes up because it doesn't like water. Battle it and capture it. You better capture it and not kill it, 'cause there's only one of them.
But in Crystal, when you talk to the girl inside the house, she'll tell you that her little sister has gone off to check out the wiggling tree, and that it could be dangerous. So you'll first have to talk to the little sister near the wiggling tree, and come back to the house to receive the SquirtBottle.
TM 22 - Solar Beam can be found on Route 27 after you get Whirlpool.
Next, head directly to the right, and talk to the fat dude. He'll give you TM 08 - Rock Smash. This important TM will allow you to break boulders later in the game.
More Things To Do
Right above the fat dude on Thursdays, Arthur will appear for "Arthur of Thursday". He'll give you a Hard Stone, which increases the strength of rock-type attacks.
There's a guy wanting to deliver a Spearow with Mail attached to another guy on Route 31. The guy with the Spearow is in the Route Change gate right after Goldenrod City. After getting TM 50 - Nightmare, you can go back to the guy in the gate, and he'll give you a HP Up.
Locations (Route 36 and 37)
Crystal Locations
Items
TM 04 - Rollout
Park Ball (20)
Varying Prizes
TM 28 - Dig
Quick Claw
SquirtBottle
TM 22 - Solar Beam
TM 08 - Rock Smash
Hard Stone
TM 50 - Nightmare