Navigation
Key
Words that are in BOLD face shows that it is an item
Words that are UNDERLINED shows that it is a location
Pokemon names with no color can only be found in all versions
Pokemon names with a GOLD color can only be found in the Gold version
Pokemon names with a SILVER color can only be found in the Silver version
Gold/Silver/Crystal Walkthrough - Ecruteak City/Route 38 and 39
Time Capsule
After Routes 36 and 37, you will arive at Ecruteak City. You'll probably want to go to the local Pokemon Center to heal your Pokemon. There, you'll meet Bill. He'll tell you he just finished fixing his Time Capsule. The Time Capsule will let you transfer Pokemon from older games, (Red, Blue, and Yellow) and transfer them to Gold, Silver, or Crystal. Bill tells you that you can't have any new moves found in G/S/C on your Pokemon when you trade. Then he'll leave and go back to Goldenrod City. He'll give you an Eevee if you talk to him again. Now, fasten your seat belts as we race to the gym!
The Ghost Gym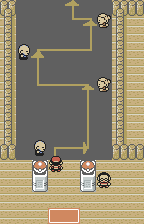 If you didn't know it, it would look quite weird. You'd think that the game was messed up or something. What am I talking about? The ghost floor surface in the gym. You see, if you just walk straight all the way (which you can't), you'll fall right through, and go back to the beginning. You'll need to follow a certain path that you can see with your eyes, but can see with your common sense. After falling a few times, you'll soon realize the pattern. Or, you don't need to realize that. Simply look to your left!
Morty, the gym leader, uses Pokemon from the Gastly family (Gastly, Haunter, and Gengar), leveling from 21 to 25. Morty will award you with the Fog Badge. You'll get $2,300, plus TM 30 - Shadow Ball. Also, you can now use Surf outside of battles.
In Crystal, an old man will kick you out, because Morty isn't in there. You'll find out where he is later in this walkthrough.
Getting Surf
After you beat the gym leader and got your well deserved badge, go to this house where five Kimono Girls are dancing on a stage. Go onto the stage to battle each Kimono Girl. Each one has an Eevee evolution. There are two new ones, Espeon and Umbreon. Deafeat all of them, and talk to the man with the hat. He'll give you HM 03 - Surf.
In one of these houses, a guy will give you the Item Finder.
Burned Tower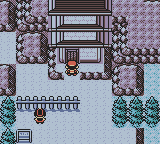 You'll have no trouble finding the Burned Tower. In Crystal, the design of the tower has been changed, and is actually burned! Your rival will battle you once you enter the Burned Tower. I would suggest that you use a Kadabra now if you had caught one earlier. After defeating your rival, it's time to explore the Burned Tower.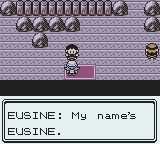 But wait, in Crystal, once you enter, you'll be talking to Eusine, a Suicune fan. He tells you that he's searching for the legendary dogs. Morty, the gym leader, is here too, helping Eusine out. Now go inside a ring of rocks, and your rival will battle you. After that, you fall into a hole, and you'll meet the legendary dogs.

The Dogs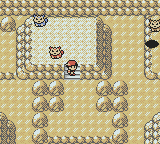 Now's the time to use TM 08 - Rock Smash if you had taught it to one of your Pokemon. If you didn't, do it now. There are boulders blocking your path, and nows the time to smash them. Fight the trainer and you can fall down the hole in the middle. Go up to the stone statues and they will awaken, then run away, each in a different direction. These three are the Three Legendary Beasts, or dogs. The first one is Raikou, an electric-type. Next is Entei, the fire-type. Finally, there is Suicune, the water-type. You may run into them later in the wild, so be prepared. I fought Raikou just a few minutes after letting them go. Some people will take longer. It's random.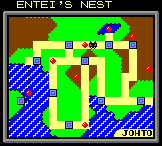 They each have 40 HP, and every time you attack them, they will lose some (of course). But the thing is, they will never recover. So hit them a little at a time, and finally, catch them. The good news is that once you encounter one them, you'll be able to track them. The bad news is that they are very difficult to capture.

In Crystal, you'll actually be able to see a special made sprite just for that Pokemon instead of the normal sprite. This should be interesting, but doesn't effect game play. After you release them, take the ladder back up to the main floor.
Item Finder
There is a house between the Pokemon Center and the gym where you can receive an Item Finder.
Get Your Endure!
Just walk down the stairs, go to your right, and break that boulder. Next, you'll have fall in the hole in the upper right hand corner. Then move a rock with Strength and TM 20 - Endure is yours.
Locations (Burned Tower)
Crystal Locations
Later on, to catch a Ho-oh (G/S), or Suicune (C), inside the Tin Tower.
Locations (Tin Tower)
Crystal Locations
Same As G/S
---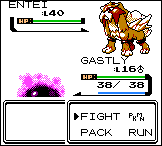 Before we talk about anything else, I just want to tell you that I fought with Entei here in Crystal. In Silver, I met a Raikou here. It's all supposed to be random, but I guess they just want to meet me here.
At the beggining of Route 38, there is a plant that produces Berries. Get these Berries, for you will need them later. On the corner of Route 39 and 39 is a Miltank Farm. The bad news is that their prize Miltank won't produce any milk. Time to help! Give this Miltank seven Berries, and it'll feel better. After the Miltank gets better, the lady owner will give you TM 13 - Snore. Also, you will be able to purchase milk for $500 from the man. Milk can recover 100 HP for your Pokemon but the guy will only sell you one at the time.
A couple of trainers with Pikachu will be battling you on Route 39.
Locations (Route 38 and 39)
Crystal Locations
Items
Fog Badge
TM 30 - Shadow Ball
HM 03 - Surf
Item Finder
TM 20 - Endure
Berries
TM 13 - Snore