Navigation
Key
Words that are in BOLD face shows that it is an item
Words that are UNDERLINED shows that it is a location
Pokemon names with no color can only be found in all versions
Pokemon names with a GOLD color can only be found in the Gold version
Pokemon names with a SILVER color can only be found in the Silver version
Gold/Silver/Crystal Walkthrough - Olivine City
Missing: One Gym Leader
Well, you arrived at Olivine City, what now? Heal your Pokemon, look around, and of course, run to the local gym. But when you get there, you will find out from your rival that the gym leader, Jasmine, is missing!
Four Things To Do
Next, go inside the house next to the Pokemon Center. Talk to the Sailor on the right, and he'll give you HM 04 - Strength.
Now, above the Pokemon Center is another house. Go in there, talk to the Fishing Guru, answer yes to his question, and you'll get a Good Rod.
On Mondays, look for Monica in the city. Talk to her and she'll give you Sharp Beak. When attached to a Pokemon it'll raise the power of flying attacks.
Finally, there is a house with a man inside who would like to trade his Voltorb for your Krabby.
Jasmine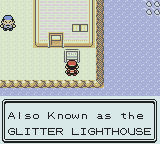 Next, go southeast of Olivine City to find a lighthouse known as the Glitter Lighthouse. TM 34 - Swagger can be found here. Go to the top as you battle trainers and by falling into holes. At the top, you'll find Jasmine, the missing gym leader. Jasmine will ask you to get some medicine for her sick Pokemon from a pharmacy at Cianwood City. To get to the bottom easily, simply fall into holes one after another, and soon, you'll reach the first floor. Now, let's surf to Cianwood City!
Battle Tower
The Battle Tower is just west from Olivine City. Click on the link below for much more information on the Battle Tower
Items
HM 04 - Strength
Good Rod
Sharp Beak
TM 34 - Swagger