Navigation
Key
Words that are in BOLD face shows that it is an item
Words that are UNDERLINED shows that it is a location
Pokemon names with no color can only be found in all versions
Pokemon names with a GOLD color can only be found in the Gold version
Pokemon names with a SILVER color can only be found in the Silver version
Gold/Silver/Crystal Walkthrough - Lake of Rage
Crouching Tiger, Hidden Power
There is a winding path off to the left of the lake that require Cut to get past. There is a hut at the very top and for your trouble, the man inside the housewill give you TM 10 - Hidden Power.
Upwards near the house where you got TM 10, you will find Wesley on "Wesley of Wednesday". Talk to Wesley, and you'll get a Blackbelt.
TM 43 - Detect can be found by going north from Lake of Rage.
Red Gyarados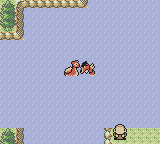 You'll arrive at Mahogany Town, but you'll find a Team Rocket member blocking the door of the gym. You'll have to find something else to do first. Now go north on Route 43 as you battle trainers and wild Pokemon. You'll reach a huge lake, known as the Lake of Rage. Surf to the center, and you'll see a lv. 30 Red Gyarados sprite, as show on your left. Save your game before battling it, so that if you knock it out, you can turn off your game and do it over.
Locations (Route 43)
Crystal Locations
After capturing, or knocking it out, you'll get a Red Scale, which you can trade for an Experience Share from Mr. Pokemon.
Meet Lance
After catching/defeating the Red Gyarados, you'll see Lance standing by a sign. My friend calls him: "Gary with a Halloween costume." Talk to him and he'll tell you that Mahogany Town has a secret Rocket Hideout, where strange radio signals are broadcasted making the Magikarp in the lake evolve into Gyarados. He needs your help. Answer yes, and he'll fly off. Now, go back to Mahogany Town.
Bombs Away!
On your way back to Mahogany Town, you can go through a gate house with a red roof. Warning! There are Rockets in there, and they'll steal your money. Hop over the ledges to get back. However, later after you get rid of Team Rocket, come back to get TM 36 - Sludge Bomb from a guy inside.
Items
TM 10 - Hidden Power
Blackbelt
TM 43 - Detect
Red Scale
TM 36 - Sludge Bomb