Navigation
Key
Words that are in BOLD face shows that it is an item
Words that are UNDERLINED shows that it is a location
Pokemon names with no color can only be found in all versions
Pokemon names with a GOLD color can only be found in the Gold version
Pokemon names with a SILVER color can only be found in the Silver version
Gold/Silver/Crystal Walkthrough - Mahogany Town
The Store
Once you arrive in town, head to the middle where you'll find a house. Inside, a guy is selling things. You'll find Lance, who flew away recently, here. He'll show you the secret door to the Rocket's Hideout.
Rocket's Hideout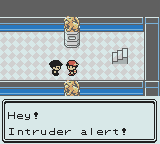 Now you're in Rocket's Hideout. On the first floor, there are many statues. Each time you pass by one, a Rocket member (also known as a Rocket Grunt) will battle you. They'll tell you that there's a camera in each statue, and to turn it off, you'll need to hit the switch. The switch is on that lone computer which you can get to after defeating the scientist in the center.
Go up the stairs, and you'll be on the second floor. There, talk to Lance and he'll heal your Pokemon. He'll go away. Now defeat the two Rocket members, and go to the third floor.
On the third floor, Lance will talk to you again. He says to unlock the doors to this level, you'll need to get two passwords from Team Rocket. The two Rocket members that have these two passwords are on this level. The first one is a Rocket Girl, facing a computer. She'll give you the password if you talk to her after you battle her. The other member is near two Pokeballs. Talk to him after the battle and he'll give you his password. Follow the stairs until you reached the locked doors. Your Rival will come to talk to you, but he won't be battling you. Unlock the door and fight the Rocket Executive. Talk to the Murkrow after he leaves and it'll give you the final password: Hail Giovanni. Now head down to the second floor, and unlock that locked door.
Radio Signals
You are still on the second floor. After unlocking the door, two Rocket Executives will come up to battle you. Lance tells you to split the job, and he'll battle on of them, while you battle the other. After the battle is over, Lance tells you that the radio signals needs to be stopped. Since there is no switch, you'll have to battle the Electrode. Catch 'em, or knock 'em out. After doing either one, Lance will give you HM 06 - Whirlpool.
Pryce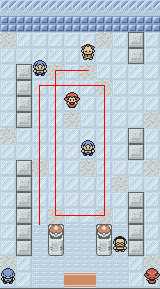 Finally, the time has come to battle the Mahogany Gym gym leader, Pryce. You'll have to walk a certain way, and the picture to your left shows you exactly how. After you beat Pryce, he'll award you with $3,100, TM 16 - Icy Wind, and the Glacier Badge. This badge allows you to use Whirlpool outside of battles.
Team Rocket Has Taken Over...
Well, after getting your seventh (second to last) badge, you have a smile on your face, and is about to go to the next city. Well, too bad, you can't. Professor Elm tells you that you need to first go back to Goldenrod City. The city's radio broadcast seems to be talking a lot about Team Rocket. He just wants you to check things out. Now, head back to Goldenrod City to fight some more Rockets.
Items
HM 06 - Whirlpool
Glacier Badge
TM 16 - Icy Wind