Navigation
Key
Words that are in BOLD face shows that it is an item
Words that are UNDERLINED shows that it is a location
Pokemon names with no color can only be found in all versions
Pokemon names with a GOLD color can only be found in the Gold version
Pokemon names with a SILVER color can only be found in the Silver version
Gold/Silver/Crystal Walkthrough - Tohjo Falls/Route 26 and 27/Victory Road
Kanto Map Card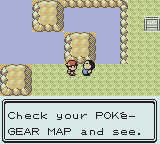 After surfing and reaching dry land, the fat guy will tell you to look at your PokeGear. You'll find the map of the Kanto region (from Red/Blue/Yellow).
Tohjo Falls
Next you'll enter a cave that has a waterfall. Surf to your left, and you'll find a Moon Stone. Surf up the waterfall and then down the other side to get out of the cave.
---
After you've exited the cave, you'll find a house with an old lady inside. Talk to her, and she'll give you TM 37 - Sandstorm.
Surf off the bridge on Route 27. Then, get pass the whirlpool to find TM 22 - Solar Beam.
Going On
Next, surf east some more and you'll fight some trainers when you reach land. Before going on, there's a house with a woman who will heal your Pokemon for you. Now head north, and eventually, you'll reach Victory Road.
---
Victory Road
Eventually, you'll reach u>Victory Road, which is very short. Inside, you will find TM 26 - Earthquake. Before you reach the end of Victory Road, your rival will come to challenge you one more time. After that, it's time for the Pokemon League.
Items
New Map Card
Moon Stone
TM 37 - Sandstorm
TM 22 - Solar Beam
TM 26 - Earthquake