Navigation
Key
Words that are in BOLD face shows that it is an item
Words that are UNDERLINED shows that it is a location
Pokemon names with no color can only be found in all versions
Pokemon names with a GOLD color can only be found in the Gold version
Pokemon names with a SILVER color can only be found in the Silver version
Gold/Silver/Crystal Walkthrough - Vermilion City
More Stuff
After you beat the Elite Four, you still have more to do. Here's what's next. Go talk to Professor Elm in New Bark Town and get the SS Aqua Ticket. Then head to Olivine City and enter the SS Aqua through the passage that was previously blocked by someone.
SS Aqua
Now that you are on the SS Aqua, you can go around battling the gym trainers aboard. To get off you first have to find a man's granddaughter who is with the captain of the ship. To get there you must find a lazy sailor who is in the room next to yours. Battle him so you can get past another sailor blocking your way later in the ship. Find the girl after going downstairs then upstairs with the captain, and you'll be sent back to the Grandpa's cabin. He'll give you Metal Coat for all your troubles. Metal Coat increases the strength of steel-type attacks. If you decide to go back onto the SS Aqua for a second time, you must go to your room and sleep in your bed if you ever want to get off the boat again.
A Surge of Electricity!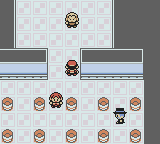 It's you against Lt. Surge now in the Vermilion Gym. You won't have to do his trash can secret switch puzzle to get to him. You'll have to fight a couple guys though, but you should do it anyways to gain more experience. Lt. Surge's Pokemon shouldn't be too tough. Especially if you have a ground-type Pokemon like Graveler or Sandslash. Dig or another ground-type move should render his Pokemon helpless.
After you beat Lt. Surge, he'll give you $4,600, and the Thunder Badge for winning which will increase your Pokemon's Speed. Now, let's head on to Saffron City!
Items
SS Anne Ticket
Metal Coat
Thunder Badge