Navigation
Key
Words that are in BOLD face shows that it is an item
Words that are UNDERLINED shows that it is a location
Pokemon names with no color can only be found in all versions
Pokemon names with a GOLD color can only be found in the Gold version
Pokemon names with a SILVER color can only be found in the Silver version
Gold/Silver/Crystal Walkthrough - Celadon City/Fuchsia City/Diglett's Cave
Erika's Gym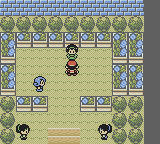 Erika is Celadon Gym's gym leader. She uses two new grass-type Pokemon: Bellosom and Jumpluff. You can easily burn her Pokemon to ashes (well, they'll only faint) with a fire Pokemon. Beat her to get $4,700, TM 19 - Giga Drain, and the Rainbow Badge.
Celadon City Department Store
You can get TM 17 - Protect only at the Celadon City Department Store for a price of $3,000.
Celadon Game Corner
If you want to gamble, now's the time to do so at the Celadon Game Corner. TM 15 - Hyperbeam for 7500 coins and TM 32 - Double Team for 1500 can only be bought here. Buy it if you want, don't if you don't want to buy it, and let's move on.
Celadon Mansion
At night, if you go to the Celadon Mansion, you'll find TM 03 - Curse.
---
A Battle At Fuchsia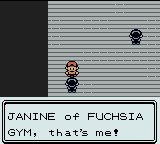 When you arrive at the gym, you'll see a lot of Janine (Koga's daughter, who took over her father's job). They are all fake, but only one is the real gym leader. To find the real Janine, you must go to the right of the gym, go up, turn left, and go down until you reach the second to last trainer, which is Janine.
After you beat her, $3,900 and TM 06 - Toxic are yours. Of course, most importantly, you'll get a Soul Badge. Now, go back to Vermilion City.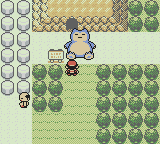 Now that you're in Vermilion City, it's time to head north to Diglett's Cave. But you can't go yet, a huge Snorlax is sleeping, and blocking your way! Now's the time the radio comes in handy. Tune your radio to the Poke Flute station, located on the last bar. Now turn off the radio, and press A. Snorlax will battle you. It's a lv. 50 Snorlax with Rollout and Body Slam! He'll be a great addition to your team, so you better capture Snorlax. After capturing or knocking out Snorlax, go into the cave to battle some Diglett and Dugtrio. Finally, you'll reach the exit, and you'll be at Pewter City.
Items
Rainbow Badge
TM 19 - Giga Drain
TM 17 - Protect
TM 32 - Double Team
TM 15 - Hyperbeam
TM 03 - Curse
Soul Badge
TM 06 - Toxic
TM 03 - Curse