Navigation
Key
Words that are in BOLD face shows that it is an item
Words that are UNDERLINED shows that it is a location
Pokemon names with no color can only be found in all versions
Pokemon names with a GOLD color can only be found in the Gold version
Pokemon names with a SILVER color can only be found in the Silver version
Gold/Silver/Crystal Walkthrough - Pewter City/Mt. Moon
Rocky Water Pokemon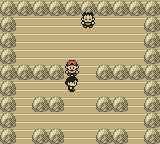 When you arrive at Pewter City, go to the gym. There, Brock will challenge you. This time he has water Pokemon along with his rock-type Pokemon!, so a grass Pokemon would be the best choice.
$4,200 is what you get for winning, plus the Boulder Badge.
Old Man Gives You Wings
Before leaving the city, talk to the old man to get either Rainbow Wing (Silver), or Silver Wing (Gold). In Crystal, you'll get a Silver Wing to capture Lugia at the Whirl Islands. Ho-oh can be captured in Crystal after catching all three legendary dogs, and returning to the Tin Tower. Now, go on to Mt. Moon.
---
Your rival comes and will battle you, a perfect time to gain some more experience. His Pokemon as getting quite powerful. You'll probably notice that the character image changed; Now he's pointing at you. Beat him, and you'll get $4,500.
On Monday nights, Mt. Moon will feature some dancing Clefairy. When you go up to them, they'll scatter. Go up to the rock where they were at and you'll find a Moon Stone.
Now head south to Pewter City, and keep on going south until you reach Cinnabar Island. Do not stop at Viridian City because the gym leader isn't in there, or Pallet Town.
Items
Boulder Badge
Rainbow Wing (S)
Silver Wing (G & C)
Moon Stone