Navigation
Key
Words that are in BOLD face shows that it is an item
Words that are UNDERLINED shows that it is a location
Pokemon names with no color can only be found in all versions
Pokemon names with a GOLD color can only be found in the Gold version
Pokemon names with a SILVER color can only be found in the Silver version
Gold/Silver/Crystal Walkthrough - Cinnabar Island/Seafoam Island/Viridian City/Pallet Town/Route 28
Cinnabar Island
When you arrive at Cinnabar Island, talk to the only person you'll find. It's Blue, or Gary. He'll tell you that he was the former champion (until Red defeated him), and to go to Viridian City later on to challenge him in a match. From Blue, you'll find out that there was an erruption, and Blaine's gym was destroyed. He has relocated to Seafoam Island. So go there now!
---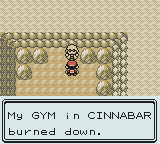 There isn't much to do at Seafoam Island, except challenging the gym leader, Blaine. He only has three fire Pokemon, and is more than easy to beat with a water Pokemon. You'll earn $5,000 and a Volcano Badge for winning. Now go to Viridian City to have your last gym battle.
---
A fat fire-breather (they're always fat) will tell you that he had a weird dream, and will give you TM 42 - Dream Eater.
A great place in Viridian City for you to level up your Pokemon would be the Trainer House (next to the PokeMart), open daily. Go downstairs and talk to the lady. Answer yes, and you'll find a trainer who looks exactly like you. He has a Meganium, Typlosion, and Feraligatr, all lv. 50. Note that you may only battle one time in a day.
The Final Gym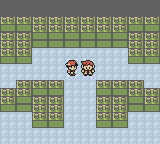 Go to the Viridian Gym to take on Gary, known as Blue in the game. He took over Giovanni's place as the gym leader. He uses different types of Pokemon, so it's harder to win compared to the other gyms.
After getting the Earth Badge from Blue, head straight to Pallet Town.
---
Talk to Professor Oak at his lab (if you have all eight Kanto badges), and he'll open up a path that leads to the Silver Cave, also known as Mt. Silver. Go to Viridian City as head east, towards the Indigo Plateau. The path previously blocked by two men is now open. From here you can continue out the door to the Silver Cave or go to Indigo Plateau to fight someone that will be a lot easier compared to the battle you will be having inside the Silver Cave.
After battling your rival back at Mt. Moon, he'll battle you again, anytime before going up the stairs in the Indigo Plateau.
As you are going to Silver Cave (Route 28), you will be encountering some powerful wild Pokemon in their 40s (level, I mean). Right before you enter the Silver Cave, heal your Pokemon or switch Pokemon at a Pokemon Center right in the middle of nowhere.
Steel Wing
To the right of the Pokemon Center, there are two cut-able bushes. Cut them, go on, and you'll reach a house. Inside is a lady who will give you TM 47 - Steel Wing. Now, go back past the Pokemon Center, and inside Silver Cave. You'll need Flash to see.
Items
Volcano Badge
TM 42 - Dream Eater
Earth Badge
TM 47 - Steel Wing