Navigation
Key
Words that are in BOLD face shows that it is an item
Words that are UNDERLINED shows that it is a location
Pokemon names with no color can only be found in all versions
Pokemon names with a GOLD color can only be found in the Gold version
Pokemon names with a SILVER color can only be found in the Silver version
Gold/Silver/Crystal Walkthrough - Silver Cave (Battle With Red)
Battling Red
Inside the Silver Cave (Mt. Silver), you'll be battling Red, or Ash. Your Pokemon better be higher than lv. 60, or get ready to be toasted (drowned, crushed, paralyzed).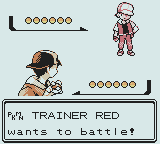 Go around the cave, and you'll find Red just standing there. Talk to him, he'll say ... , and he'll be battling you. His Pokemon are very, very strong, especially his Snorlax. Below are some good strategies to keep in mind as you battle his Pokemon.
Pikachu - A few Rollouts can destroy Pikachu with three hits. Remember, I'm talking about lv. 60 Pokemon or up.
Venusaur - One word: Flamethrower.
Charizard - A water attack, or Rollout.
Blastoise - Grass or electric Pokemon will show this dude some power.
Snorlax - A fighting Pokemon, better results with Dynamic Punch.
Espeon - A ghost Pokemon should beat this guy.
After beating all six of his Pokemon, credits will roll, and you'll get the Game Over screen. You can play on and on if you want, and capture many Pokemon, and complete your Pokedex. Thank you for reading PokeDream's Gold/Silver/Crystal Walkthrough, and I hope that you've had fun.