Navigation
Key
Items are BOLD.
Locations are UNDERLINED.
Pokemon HeartGold and SoulSilver Walkthrough
An Adventure Begins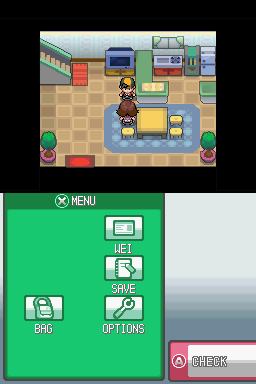 The game begins with an introduction to Pokemon from none other than Professor Oak. Good times! Here, you can choose your character to be either a boy or girl. For this walkthrough, I chose the boy, and his name is Wei (which, unsurprisingly, is also my name). After choosing your character, you're placed in your room, where your adventure begins!
When you go downstairs, you'll be greeted by Mom, who'll give you a Bag to carry your items, a Trainer Card, a way to save the game, and options. Note that unlike previous games, the menu is now on the touch screen.
When you leave your house, a Marill will walk up to you. This Marill belongs to the other character in the game that you didn't choose, which is Lyra if you chose the boy, or Ethan if you chose the girl. Since I chose the boy, we'll be seeing Lyra in this walkthrough. Lyra comes over to pick up her Marill and leaves.
Choose Your Pokemon
Head over to Professor Elm's lab just west of your house. After talking to him, you get to choose a starter Pokemon from the machine.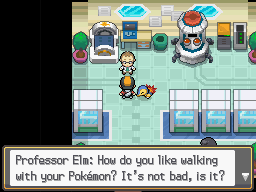 In Pokemon HeartGold and SoulSilver, your leading Pokemon will always follow behind you. After choosing your starter Pokemon, it'll start following you around. Professor Elm needs you to visit Mr. Pokemon in Cherrygrove City, so let's go there now! Before you leave, Professor Elm's assistant will give you 5 Potions.
Outside, you'll bump into Lyra, who tells you you should show your new Pokemon to your mom. So head back home to talk to Mom and she'll give you a Pokegear.
Head west towards Route 29. Before you leave New Bark Town, Professor Elm will add his phone number to your Pokegear. After that, you're finally free to go!
---
Route 29
Keep going west on Route 29. Don't bother checking out the guard tower on the north side -- that leads to a dead end on Route 46, which you'll come back through at the end of the game. Soon, you'll reach Cherrygrove City.