Navigation
Key
Items are BOLD.
Locations are UNDERLINED.
Pokemon HeartGold and SoulSilver Walkthrough
Cherrygrove City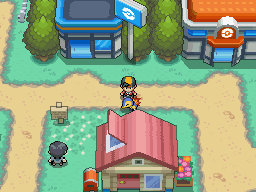 Upon entering Cherrygrove City, an old man (Guide Gent) will show you around. After the end of the tour, he'll give you his Running Shoes. With these on, you can run by holding down the "B" button while moving around. Or, you can choose to always run by touching the running shoes icon to toggle "run-mode" on.
It's probably a good idea to heal your Pokemon at the Pokemon Center if you've encountered some wild Pokemon along the way and took some damage, and also stock up on some items at the Pokemon Mart. After that, head north to find Mr. Pokemon. Before you leave, Guide Gent will give you a Map Card for your PokeGear. Now keep going onto Route 30.
---
Route 30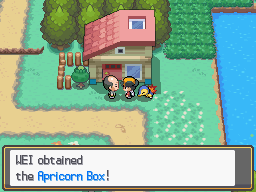 You'll find an itemball with a Potion after the first patch of grass on Route 30. As you continue north past the house with a tree outside, a man will come out and give you an Apricot Box. With this, you can collect Apricots from all the Apricot Trees that you see. Collect your first Grn Apricot from the tree right outside his house.
Continue north, collecting the Antidote near the second patch of grass. You'll eventually get to Mr. Pokemon's House. Go inside, and Mr. Pokemon will give you the Mystery Egg that you're here to pick up. He'll heal your Pokemon afterwards. Professor Oak is also here, and he'll give you a Pokedex and exchange numbers with you. When you leave the house, Professor Elm will call you in a state of panic, asking you to come back immediately. So, head back to New Bark Town.
But, before you leave, be sure to pick a Pnk Apricorn from the tree outside the house.
First Pokemon Battle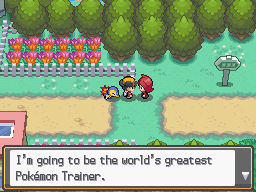 When you try to leave Cherrygrove City, a mysterious red-haired guy called Passerby Boy will challenge you to a battle. Apparently, he's stolen a starter Pokemon from Professor Elm's lab. The Pokemon he uses has a type advantage over yours. This is your rival, whom you'll be battling quite a few more times in the game. He shouldn't be too tough to beat assuming that you've already fought some wild Pokemon and leveled up a bit.
Now keep heading east back to New Bark Town.
Last Stop Before We Leave
Head to Professor Elm's lab. A police officer is inside, investigating the case of the stolen starter Pokemon. The thief was the red-haired guy you just battled. The officer asks you for his name, which you get to choose. From now on, we'll refer to him as Rival.
Afterwards, you'll hand the Mystery Egg to Professor Elm. He is really excited to find out Professor Oak has given you a Pokedex, and suggests that you should travel the world and collect the eight gym badges. And, of course, nothing in the world sounds more exciting than this! Let's go! Before leaving, visit Mom if you'd like her to hold onto some of the money you win in battles.
The Journey Begins
And now, the journey begins. Head west back onto Route 29. Lyra will show you how to catch a Pokemon. Afterwards, she'll give you 5 PokeBalls. There's nothing else new to do, so keep going till you reach Cherrygrove City, and then head north onto Route 30.
On Route 30, keep to the left and keep heading north, battling trainers as you go.
---
Route 31
You'll soon hit Route 31. Here, you'll pass Dark Cave, which you won't be able to explore yet without Flash. Outside it, pick up the Potion. Continue west. You can pick up a PokeBall and Blk Apricorn. When you walk into the guard tower, Lyra will find you and give you a Vs. Recorder. On the other side is Violet City, where you'll be earning your first badge.