Navigation
Key
Items are BOLD.
Locations are UNDERLINED.
Pokemon HeartGold and SoulSilver Walkthrough
Goldenrod City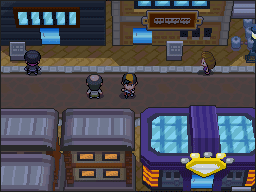 Goldenrod City is a huge, bustling city filled with interesting people to see and cool places to visit. Of course, it also has a gym, but we'll go there in the end. First, let's do some exploring!
Goldenrod City has a huge, six-story department store across from the Pokemon Center that offers just about all the Poke-merchandise you'll ever want; it's shopping heaven for trainers. On the fifth floor, one of the cashiers will give you TM 27 - Return or TM 21 - Frustration depending on how happy your leading Pokemon is. The fat guy on the same floor will offer to trade his Machop for a Drowzee. On the top floor, you can enter a raffle for $300 to draw prizes, which vary by day; check with the cashier to find out what the prizes of the day are.
Go east of the department store. Here, you'll find a house with a lady who'll tell you how happy your leading Pokemon is. Go a bit south into the Bike Shop. The store owner inside will give you a Bike to help him advertise his bikes. Now you can breeze through Johto on a cool, fast bike! You'll find Bike under Key Items in your Bag. For easy access, Register your Bike so you can get on and off of it quickly using the "Y" button.
The Game Corner is just north of the Pokemon Center. Talk to Mr. Game, who's sitting on the couch, and he'll give you a Coin Case. The two old gentlemen standing near Mr. Game exchange Pokemon (yes, live Pokemon), TMs, and other items for your coins.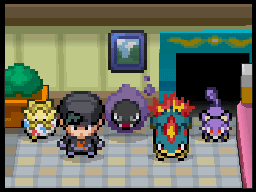 Now let's check out the Goldenrod Underground by entering the building south of the Game Corner. You'll bump into Lyra again once you enter. She'll give you a Fasion Case. Head downstairs to fight a few trainers and maybe get your Pokemon a haircut, buy stuff, or get a photo of you dressed up in a Team Rocket uniform along with your team of Pokemon. There is a man inside the room next to the photo studio who'll give you random accessories for $100. After all that fun, head out the other end of the Underground. Right outside, you'll find the Name Rater's house. The Name Rater can rename your Pokemon.
At the northwest side of the city, you'll find the magnificent-looking Global Terminal, where you can battle and trade Pokemon over Nintendo WiFi. You can do that on your own later, but now, go into the Radio Tower east of the Global Terminal. The middle receptionist inside will give you a prize if the lucky number of the day matches any of your Pokemon's IDs. Talk to the right receptionist to take a quiz. Answer "yes", "yes", "no", "yes", "no" to ace the quiz and receive a Radio Card. This card gives your Pokegear a radio feature you can use to tune in to programs broadcasted throughout Johto.
Whitney, the Goldenrod Gym Leader, who happens to be standing right next to you, praises you for your superb performance on the quiz and heads back to the gym. Head upstairs, talk to Buena, who's behind the desk, to receive a Blue Card. It keeps track of points you've earned by guessing Buena's password correctly during her radio shows, which you can then exchange for goods.
Now it's time to hit the gym!
Goldenrod Gym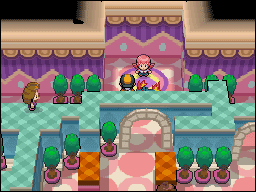 Goldenrod Gym is filled with trainers with Normal-type Pokemon. The Pokemon here are not terribly tough, and any starter Pokemon you chose should do fine here. Navigating to Whitney isn't too tough either. Whitney has two Pokemon: a lv. 17 Clefairy and a really tough lv. 19 Miltank with a killer moveset. She'll use Attract to immobilize your Pokemon, Milk Drink to heal herself (so you'd better deal more damage than she can heal!), and Stomp and Rollout crush you. Make sure your strongest Pokemon is at least lv. 25 before attempting to battle Whitney. If your Pokemon aren't well-prepared for this battle, you can even get a head start battling trainers on Route 35, just north of Goldenrod City.
After defeating Whitney, she'll start crying and do anything else until you try to leave. She'll give you the Plain Badge, which lets your Pokemon use Strength outside of battle. She'll also give you TM 45 - Attract. Go into the Flower Shop next to the gym to pick up a SquirtBottle, which you'll need later to get across a certain roadblock. For now, head north to Route 35.
Optionally talk to the guard in the gatehouse to help him deliver a letter with a
Spearow
to his friend on
Route 31
. His friend will reward you with
TM 44 - Rest
and the guard will give you an
HP Up
.
---
Route 35
There are quite a few trainers to battle on Route 35. Go slightly south through the patch of grass to pick up a Parlyz Heal, TM 66 - Payback and battle another trainer on the other side of the fence.
On the northern end of the route is a gatehouse that leads to National Park on the right side and Pokeathlon Dome on the other.
---
National Park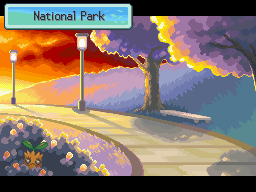 National Park contains lots of Bug Pokemon, trainers, and is home of the Bug Catching Contest on Tuesdays, Thursdays, and Saturdays. Upon entering from the gatehouse, talk to the girl sitting on the bench next to the Persian, and she'll give you a Quick Claw. Go around and fight all the trainers in the grass. At the northeastern corner, go inside the fenced area next to the boy on his Nintendo DS. From there, go southwest to pick up TM 28 - Dig and go east to pick up a Soothe Bell. Now get out of National Park through the east gatehouse and you'll end up on Route 36.
---
Route 36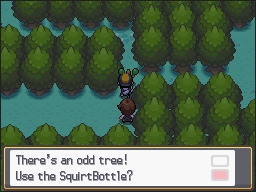 Pick up the Blu Apricorn right outside of the gatehouse. Head east. There will be a roadblock; it's some sort of odd tree. It turns out this is a Sudowoodo and you'll have to use your SquirtBottle on it to get it to move. Once you spray Sudowoodo with your SquirtBottle, it'll attack! It's a lv. 20 Sudowoodo. After either capturing or defeating Sudowoodo, the bystander who watched your battle will give you Berry Posts and Oran Berries.
You may choose to explore the Ruins of Alph, just south of here. Otherwise, continue north to Route 37.
---
Route 37
Go through the patch of grass on the right side to fight a trainer and pick up some Apricorns. Then go through the left side and fight the twin trainers. Finally, you'll arrive at Ecruteak City.