Information
Publisher:
Nintendo
Developer:
?
Platform:
GameCube
Genre:
Communication
Players:
1
Supports:Memory Card
e-Reader
Release:
December 1, 2003 (US)
July 18, 2003 (JP)
Pokemon Channel - Preview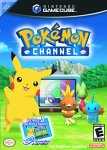 Pokemon Channel is a Pokemon television channel that has lost some parts to it's popular show. Now it's up to you and Pikachu to help find the missing parts. In this game, you can communicate with Pikachu, and take Pikachu out to see other Pokemon. As you find the clips, you will be able to view them. You will also be able to take scenes and color them the way you want.
This is a game that is very much related to Hey You Pikachu!