Walkthrough
Guides
Pokemon X & Pokemon Y Walkthrough - Lumiose City
Lumiose City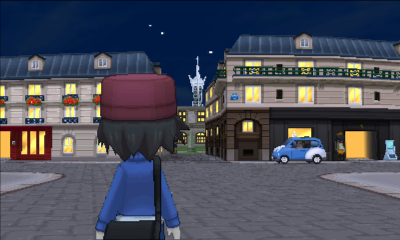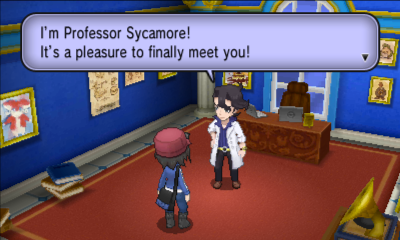 Lumiose City is a huge city located at the heart of the Kalos Region. To get started, walk left and the two assistants will head over to the lab. The camera will show you where the lab is. Head over and go inside. Head up to the 3rd floor to find Professor Sycamore.
He'll bring you to his office and introduce himself. Serena and Shauna come by too. The Professor challenges you to a battle, so go ahead and fight him. He uses a lv. 10 Bulbasaur, lv. 10 Charmander, and lv. 10 Squirtle.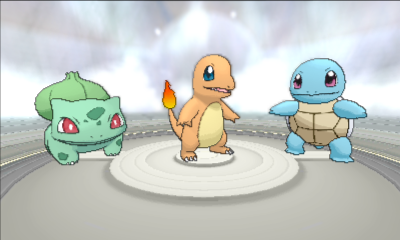 After defeating Professor Sycamore, he'll let you choose one of the three Pokemon he just used against you. The smart thing to do here is to pick a Pokemon of a different type than your starter Pokemon. Since I went with the Water-type Froakie for my first starter Pokemon, I balanced it out with the Fire-type Charmander for my second starter Pokemon.
Along with the Pokemon, the Professor will also give you a Mega Stone to Mega Evolve these Pokemon. For Bulbasaur, you'll get the Venusaurite. For Charmander, you'll get the either Charizardite X or Charizardite Y (depending on which version of the game you're playing). Finally, for Squirtle, you'll get the Blastoisinite.
Tierno and Trevor will show up and Professor Sycamore will give his spiel on "the Kalos region's biggest Pokemon mystery: the secret and potential of Mega Evolution." This type of evolution only occurs during battle and is temporary. Exciting! Now it's time to continue your journey.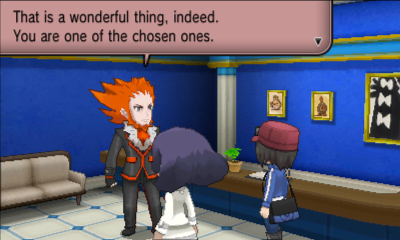 Before you leave, talk to the assistant on that floor to receive TM54 False Swipe. Head down to the 1st floor. You'll find a spiky red-haired guy talking to an assistant. His name is Lysandre and tells you the Professor has taught him so much and that he wants to see a more beautiful world.
Before you leave the lab, Serena tells you to meet her at Cafe Soleil. The rest of the guys tell you the Cafe is to the left of the lab on the other side of the street. So, let's head over there.
Cafe Soleil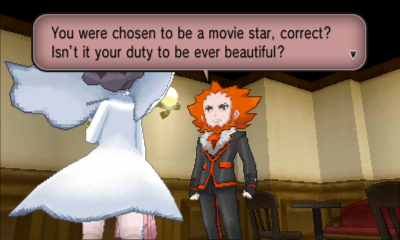 When you're outside Cafe Soleil, Serena will walk in with you. Inside, you'll find Lysandre talking to Diantha, a famous actress. We learn here that Lysandre is the head of Lysandre Labs, creator of the Holo Caster, a video-messaging device. Lysandre proposes giving Dianthra eternal beauty, but Dianthra knows better than that and is not sure that that's a good idea. Afterwards, both people leave. Serena then suggests you and her become competitors. Bring it!
Now you can head off to Route 5 or explore this huge city some more. Note you can only walk on South Boulevard and Vernal Avenue North Boulevard is inaccessible due to a power outage.
Restaurant Le Nah
Pansage
,
Pansear
, and
Panpour
. After the meal, your host comes by to congratulate you and award you 15
Tiny Mushrooms
.
PR Video Studio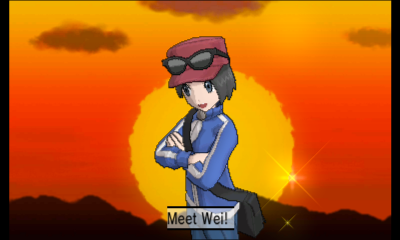 Going down South Boulevard, you'll pass by PR Video Studio. They'll take a quick video of you in front of some fancy background and is shown when you enter battle with another player. You can even enter the room in the left to get a makeover, which includes things like attaching facial hair.
Talk to the girl by the camera to get a Lens Case. You can use it to switch contacts to get different eye colors.
Other Things To Do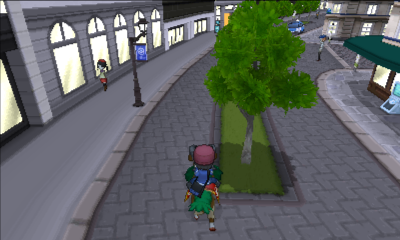 Get your hair colored and styled at Coiffure Clips. The Gogoat Shuttle will take you between East and West South Boulevard on a Gogoat. There's also a bunch of places to go on Vernal Avenue. Boutique Couture sells fancy fashion, but won't let you in if you aren't fancy enough to begin with. Chicken and egg problem? The Stone Emporium sells evolution stones: the Fire Stone, Leaf Stone, and Water Stone. An old man there wants to sell you a Blastoisinite for $1,000,000. Don't waste your money on that — that's 5000 Gogoat Shuttle rides! The Herboriste sells bitter medicine that heal your Pokemon, but also make them less friendly towards you.
The entrance to Route 5 is right by the huge screen. Right before you enter Route 5, Tierno Holo Clips you to tell you about all the wild Pokemon he's encountering. What are you waiting for? Let's go!
Route 5
As you enter the gate to Route 5, a Mr. Bonding talks to you about O-Powers, which can make your Pokemon stronger or even help you get more money. He gives you an O-Power and you're able to use Attack Power and Defense Power. Now proceed to the route.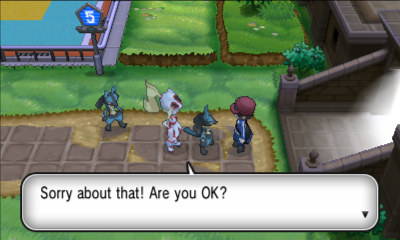 As soon as you enter Route 5, a Lucario approaches you. Its trainer, Korrina, the Shalour City Gym Leader, comes by to retrieve it.
Route 5 has a cool Skate Park. Use your Roller Blades to skate on the rail and pick up the Super Potion on the other side.
After fighting the Twins, Tierno challenges you to a battle. He uses a lv. 12 Corphish. After the battle, Trevor gives you Honey, which attracts hordes of Pokemon. From the other side of the Skate Park, you can skate on the rail again to pick up another Super Potion. There's also a hidden Super Potion in one of the rocks before you skate. Now go uphill.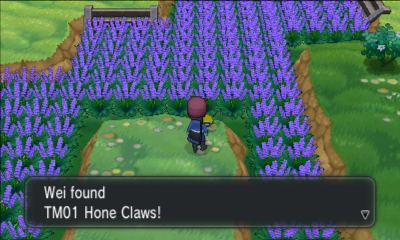 There's a fork in the road. Take the one going south, skate down the long rail, and pick up the fallen Oran Berry under the tree. Then, head back to take the road going west. You can challenge the two Roller Skaters to battles. Skate to the plateau in the middle of the field of flowers to pick up TM01 Hone Claws. Past the southern patch of flowers you'll find an X Attack. Continue along Route 5 and soon you'll arrive in Camphrier Town.