Navigation
Key
Words that are in BOLD face shows that it is an item
Words that are UNDERLINED shows that it is a location
R/B/Y Walkthrough - Pewter City/Route 3/Mt. Moon/Route 4
Your First Badge
The first thing you'll want to do when you arrive at Pewter City is to heal your Pokemon, and buy some Potions and other stuff. When you've got everything done, you're ready to get your first badge.
Go into the gym and you'll first fight a trainer. He uses rock-type Pokemon, just like the gym leader. After that, save your gave and fight with Brock, the leader of the gym. All he have is a Geodude and an Onix, but you're going to have a hard time with Charmander. You'll have a super hard time if you're playing the Yellow version, since electric attacks does not effect rock and ground types. After you beat Brock, you will get TM 34 - Bide and a Boulder Badge. Now you can leave the city. The museum is a waste of time and precious money. It'll only be worth a visit later in the game.
---
In Route 3, you'll meet a whole bunch of trainers waiting to crush you. Luckily, if your Pokemon have high levels, you'll be crushing them. You might even meet with a rare Jigglypuff! You should have gotten many Awakenings, since a Jigglypuff can easily put you to sleep with Sing.
At the end of Route 3, you'll see a Pokemon Center. Go in there and heal your Pokemon. Inside, a guy will sell you a Magikarp for $500 dollars. Even though it'll soon evolve into a strong Gyarados, I suggest that you don't buy that, and fish for a Magikarp later. After going out of the Pokemon Center, you'll be at the foot of Mt. Moon.
---
Mt. Moon is another maze with a few trainers and some good items. In here, you'll find both TM 12 - Water Gun and TM 01 - Mega Punch, and two Moon Stones. Among the trainers are a few members of Team Rocket, trying to mess around in Mt. Moon. If you are lucky, you will find a rare Clefairy.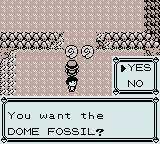 When you've finally reached the end of Mt. Moon, you'll see two shell-shaped fossils. One is the Dome Fossil (which can be turned into a Kabuto), and the other one is the Helix Fossil (which can be turned into an Omanyte). A trainer owns both of them, and he will fight you. Beat him, and he'll share a fossil with you. You can only take one of them, not both. After taking your fossil, it's time to leave Mt. Moon.
---
There isn't much in Route 4 except TM 04 - Whirlwind. After you get that, you can head on to the next city.
Items
TM 34 - Bide
Boulder Badge
TM 12 - Water Gun
TM 01 - Mega Punch
Dome or Helix Fossil
TM 04 - Whirlwind