Navigation
Key
Words that are in BOLD face shows that it is an item
Words that are UNDERLINED shows that it is a location
R/B/Y Walkthrough - Vermilion City/Route 2/Route 9/Route 10/Rock Tunnel
Stuff To Do
The house at the top-left has a fisher who will give you an Old Rod, which allows you to catch Magikarp. Go down some, and you'll find two houses to the left. One of the houses is where you can trade a Spearow for a Farfetch'd (a great deal, but only for Red/Blue). The other house is the Pokemon Fan Club. Talk to the chairman inside to get a Bike Voucher. Now go back to Cerulean City, get yourself a bike from the Bike Shop, and come back in style!
The S.S. Anne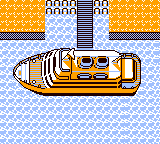 The SS Anne may seem small, but it is huge inside. It can be found by going south of Vermilion City, and "flashing" your SS Ticket to the guard. If you explore each and every room inside, you'll find tons of trainers and quite a few items. To end your stay at the SS Anne, fight Gary on the second floor. Beat him, and go up to the captains cabin. He's seasick and puking. Rub his back and he'll give you HM 01 - Cut. Now leave the ship. When you're outside, the ship will sail away. If you want it to stay, lose to a trainer after getting Cut. Now teach Cut to one of your Pokemon, and you're ready to go to the gym.
The Vermilion Gym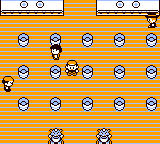 Cut the tree blocking the path to the gym, and then go inside. You'll face a few trainers inside. Now comes the hard part. Lt. Surge has put electric locks on the door that reaches him, so you'll have to solve a puzzle. There are a bunch of trash cans. Press "A" on every one of them until it says that you've found and flipped a switch. You need to flip two switches for the door to open, so you'll need to find the second switch. The second switch is always either is always either above, beside, or below the first one. If you get it wrong, the switch will be reset, and you'll have to do everything over again. This is a very tricky and annoying puzzle, but hopefully, you'll get it sooner or later. And when you do open the doors, it's time to fight Surge.
Beating him with a ground-type Pokemon is as easy as talking, and catching one is easy too. You can catch a Diglett, or even a Dugtrio in the nearby Diglett's Cave. If you do beat him, he'll give you TM 24 - Thunderbolt, and a Thunder Badge for winning. The badge allows you to Fly.
---
If you go east from Vermilion City, you'll find Diglett's Cave on Route 11. This cave is no maze; it's simple to go through since there's only one road. It has no items. The only things here that you'll find are Diglett and the occasional Dugtrio. Head inside and go to the other end to go back to Route 2 for some important things.
---
Route 2
After you exit the cave, you'll revisit Route 2. But this time, it's the other half of the route. Go south, and you'll find a house. Inside, a guy is willing to trade his Mr. Mime for your Abra (Red/Blue), or Clefairy (Yellow).
The next house has one of Professor Oak's Aides in it. If you've collected 10 or more Pokemon he will give you the HM 02 - Flash.
Finally, there is a Moon Stone and a HP Up.
---
Go back through the cave and go east when you get out. You'll be on Route 11. There are trainers and a whole lot of grass. When you reach the gate, one of Professor Oak's Aides will be there. If you have caught up to 30 Pokemon, he'll give you an Item Finder. You can't go to the other side, since there's a Snorlax blocking the way. Now go back to Cerulean City, and cut the bush. You'll be on Route 9.
Route 9
On Route 9 you'll be battling a few trainers. Nothing else.
Route 10
Route 10 is short for now. You'll see some water. When your Pokemon knows Surf, it can surf to the Power Plant. Make sure that you have taught one of your Pokemon the Flash HM in order to enter Rock Tunnel.
Like Mt. Moon, Rock Tunnel is a maze. There are no items, just trainers and new Pokemon. Here, you'll meet a Pokemon every 8-10 steps, more than normal. Use Repel if you don't want to meet too many wild Pokemon. After you exit the tunnel, you'll fight some trainers, and will be heading to Lavender Town.
Items
Old Rod
Bike Voucher
HM 01 - Cut
TM 24 - Thunderbolt
Thunder Badge
HM 02 - Flash
Item Finder