Navigation
Key
Words that are in BOLD face shows that it is an item
Words that are UNDERLINED shows that it is a location
R/B/Y Walkthrough - Lavender Town/Route 8/Route 7
Nothing To Do...For Now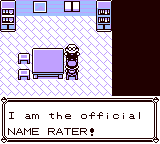 Lavender Town has no gym, and you won't be able to do much here.
Later though, you can catch ghost Pokemon in the Pokemon Tower when you get a Silph Scope. Without it, your mission in the tower won't be complete, and all the ghost Pokemon aren't identified. For now, you can battle Gary in the tower. Once you get the Silph Scope, you'll find Mr. Fuji at the top of the tower, and he'll give you a PokeFlute that's used for waking up Snorlax and other Pokemon. Now, visit the Name Rater if you want to. He'll be able to change the name of your Pokemon. After that, go left to Route 8.
Route 8 has 9 trainers and new Pokemon. Saffron City still can't be accessible, so go inside the Underground Path.
There's not much to do in Route 7. The guards are still thirsty, so go on to Celadon City.