News Archive - April 2005
The PokeMart Is Back!
Sunday, April 24, 2005
After moving to this new server, Pokemon Dream has been running with the old PokeMart. It's been nearly two months, but finally, it's back. That's right, the
PokeMart
is finally back, and has a few new items with it. At the PokeMart, you'll find the most popular Pokemon items at super low prices. Go there and check it out!
By: Mewtwo
The "Cute" Layout
Sunday, April 17, 2005
Surprise! A new layout is up! Unlike previous layouts, this new layout doesn't focus on a specific type of Pokemon. Instead, this layout is based on "cute" Pokemon. I rarely use these cute and cuddly Pokemon in layouts; most of the time, I incorporate butt-kicking, mean-looking Pokemon like Groudon, Entei, and Ho-oh, just to name a few. However, I think this new layout looks pretty good. Please send me any comments or suggestions you might have.
Also, I have added a card list for
Pokemon EX Deoxys
, which was supposed to be added two months ago. Hopefully, the Polls will be back online soon (that is, when I think of a topic)...
By: Mewtwo
Deoxys New Form
Saturday, April 16, 2005
Pokemon Emerald's release date is nearing, and when it comes out, a new form of deoxys will be available! For those of you who need a recap, Deoxys was found in its normal form on Ruby and Sapphire. In Pokemon LeafGreen, Deoxys took on defense form. Finally, FireRed introduced attack Deoxys. Soon, speed Deoxys (shown at upper-left) will be on Pokemon Emerald. (Now if only the game would come faster...)
By: Chrismc
Manyula, Usohachi, Manene: The Three New Pokemon
Wednesday, April 13, 2005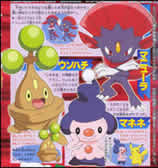 The three new Pokemon, shown as silhouettes a while ago, has been revealed on the latest issue of the CoroCoro magazine. Starting from the top on the picture on the left, we have Manyula, the evolution of Sneasel (see the resemblence?). Next, we have Usohachi, Sudowoodo's pre-evolved form. Lastly, we have Manene, the pre-evolution of Mr. Mime. All of these new Pokemon will be in the new eighth movie along with Rukario, which has been confirmed as a Steel/Fighting type Pokemon.
By: Mewtwo
Nintendo WORLD To Be Opened
Sunday, April 10, 2005
As many of you probably know, the Pokemon Center in New York City is currently undergoing remodeling. When it opens again soon, it will house the new Nintendo WORLD store. This is first store of its kind. Now, not only can you buy Pokemon products at the Pokemon Center, you'll also be able to stop by Nintendo WORLD to buy Nintendo merchandise.
By: Mewtwo
Pokemon Casewraps
Saturday, April 2, 2005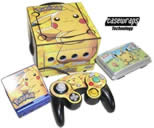 Pokemon Casewraps are all new Pokemon stickers that are used to decorate your Nintendo consoles. Introduced by the Casewraps company, these stickers have Pokemon characters on them so you can see Pokemon no matter what game you're playing. Stickers that cover GBA SP, Nintendo DS, GameCube, and GameCube controllers will be available in North America in May. So if you feel like decorating you Nintendo gear, just get one of these Casewraps, and may Pokemon stick on you forever!
By: Mewtwo
Pokemon Emerald Contest
Friday, April 1, 2005
Pokemon Emerald is due to come out soon, and subscribers to the nintendo news letter have recieved invitations to test their Pokemon knowledge and, perhaps become crowned "North America's Pokemon Emerald frontier battle brain". People who haven't subscribed to the nintendo news letter can find the site by going to www.pokemon-games.com/emerald . Plus, if you have preordered Emerald, you can use a code given to you to access members-only areas of the site.
By: Chrismc