News Archive - December 2004
Looking Back At 2004
Wednesday, December 29, 2004 @ 8:41 PM EST
Greetings, visitors of Pokemon Dream. Like always, this is Mewtwo. I'm sorry that I wasn't here to wish everyone a Merry Christmas, but I am here now to wish everyone an early Happy New Year. This will very possibly be the last post of the year. 2005 is almost here...
2004 has been a great year for Pokemon Dream. It has been a very productive year: I've recoded the whole site in PHP to make things run smoother, the
PokeDex
was completed, the
FireRed/LeafGreen Walkthrough
was completed, among many other great accomplishments. Currently, Pokemon Dream is the second most-visited Pokemon information fan site, and that position was reached this year. I'd like to thank all the visitors who have made this possible, all the Moderators for helping out in the Forums, and all the generous Pokemon experts who've allowed me to use their game guides on Pokemon Dream. Once again, I say that this has been a great year, and I hope that next year will be even better. This is Mewtwo, signing off...until next year!
By: Mewtwo
New Forums Design
Tuesday, December 21, 2004 @ 6:58 PM EST
Not too long ago, I've updated the
PokeDream Forums
with all new colors and have added two new forums for more discussion possibilities. The Forums now looks brand new after a few modifications, and everyone on the Forums agree. I hope to continue improving the PokeDream Forums, and one day (hopefully soon) make it into a large Pokemon community. I invite all visitors who haven't gone to the forums to go there now, and for those who have been there before to take another look. Go there now by
clicking here
!
You might have noticed that I've removed the Comments system of the News Center. This is mainly due to very little comments and people going off-topic too much. For example, on the previous news on the the Pokemon game for GameCube, there were a few idiotic people (a jerk named Matt, among others) who wanted to chat, and insulted people, including myself, in a very inappropriate way. And so, because I was sick and tired of all this, I decided to remove the Comments system once and for all. That's all for now...from Mewtwo.
By: Mewtwo
New Pokemon Game For GameCube
Monday, December 13, 2004 @ 9:54 PM EST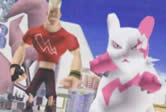 Coro Coro Magazine has revealed the newest Pokemon game for GameCube. It appears to be an RPG similar to the Story Mode in Pokemon Colosseum. I'm sure most Pokemon fans are just hoping to get their hands on a 3D Pokemon RPG (a real one, not like the one in Colosseum), and this could be it. Although the chances of a true 3D RPG isn't too great, we all should remain optimistic.
By: Mewtwo
Pokemon: Destiny Deoxys
Sunday, December 12, 2004 @ 9:24 PM EST
To your left is the poster for the 7th Pokemon movie,
Destiny Deoxys
. It will be released on February 15th, 2005 in North America. Once again, it will be released as a DVD, and won't be coming to theaters. Too bad.
I'm sorry once again (that's too many times already) for the lack of updates and news. It seems that none of my news posters are posting any news. I just never get help when I really need it. Anyways...I've added a page on the recently (over a month ago) released Pokemon card set:
Pokemon EX Team Rocket Returns
. In addition, I have added the names of a few more episodes in the
Pokemon Advanced Challenege
page. Hopefully, more updates will come.
By: Mewtwo
Eighth Pokemon Movie
Tuesday, December 7, 2004 @ 10:36 AM EST

A new Pokemon movie has been announced. This movie is based on Mew, who also starred in the first Pokemon movie. This will be the eighth Pokemon movie, and is called
Mew and the Wave Guiding Hero
, and will be released on July 16, 2005 in Japan. I will be getting some pictures of the movie soon when I find time. For now, all I have is this movie poster to your left.
By: Mewtwo