News Archive - May 2005
Gale of Darkness
Thursday, May 19, 2005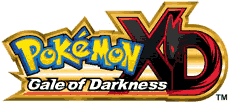 The English name for the new 3D RPG mentioned in the last news piece has been revealed -
Pokemon XD: Gale of Darkness
. Nintendo has recently set up a section for this new game, and has revealed that it will be released in October this year. Here's a short description from the
Nintendo website
:
Return to Orre for a new role-playing game in an expansive setting with a sinister plot and characters the likes of which have never been met before. With Eevee as their companion, players seek to unravel the mystery of Shadow Lugia. The fate and welfare of Pokemon lies in their ability to Snag and Purify them before itís too late.
By: Mewtwo
Pokemon XD Revealed
Sunday, May 15, 2005

Coro Coro Magazine has finally revealed new information and pictures on the "true 3D Pokemon RPG", now known as:
Pokemon XD: Dark Winds Dark Lugia
. Many screenshots were released, and it appears that this will be another snagging game involving dark Pokemon. It is known that you are a trainer who starts off with an Eevee. Obviously, a Dark Lugia will be the main focus of this game. However, it is not expected that this game will be something like Ruby/Sapphire/Emerald. Instead, Pokemon XD should be a longer and more complete version of the RPG featured in Pokemon Colosseum. I will be posting pictures of the game soon.
By: Mewtwo
Big Announcement and Minor Updates
Sunday, May 8, 2005
First of all, I'd like to announce to all visitors that Pokemon Dream has again broken its daily unique visitor count due to the popularity of the recently released Pokemon Emerald game. Yesterday, PD received over 13,000 unique visitors, the most ever. This makes me feel great, and I'm sure visitors like this bit of news too.
Next, with the minor updates, I've added some
Episode Guides
. Also, I've finally added a new
Chat Room
, which many visitors have been demanding. Happy browsing!
By: Mewtwo
Pokemon Emerald Is Out
Sunday, May 1, 2005
After months of waiting that seemed like years, Pokemon fans have finally waited till this day. Pokemon Emerald has officially been released in North America, on this day, May 1st. I will be editing the
Ruby/Sapphire/Emerald Walkthrough
to contain all sorts of Pokemon Emerald info in the next few days. The wait is over; the adventure begins!
By: Mewtwo