Pokemon XD Promotional Contest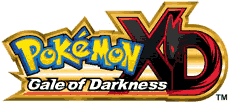 Pokemon XD: Gale of Darkness is coming our way -- it will be released in the United States on October 3rd, 2005. Return to the 3D world of Orre for this unprecedented full-length roleplaying game. It is the ultimate experience for all Pokemon fans. Same land, different story, a new adventure begins...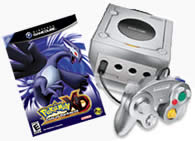 Nintendo of America has provided Pokemon Dream with exclusive content on Pokemon XD and has allowed us to set up a very special week-long contest. Pokemon Dream is giving away 10 Pokemon XD bundles (provided by Nintendo) to our visitors in the largest contest in PokeDream history, held during the week prior to the release -- 9/26 - 9/30. Each game bundle contains a Nintendo GameCube (MSRP $99.99) and Pokemon XD: Gale of Darkness (MSRP $49.99). That's right, Pokemon Dream is giving this away to ten lucky winners. For the contest, CLICK HERE.
---
Pokemon XD Mini Games
Pokemon XD: Gale of Darkness features two interesting mini games. Below, you will find exclusive information and screenshots (provided by Nintendo) of these mini games.
Battle Sim System

The Battle Sim System is a virtual Pokemon battling system that lets you battle in various situations. Using the Battle CDs you obtain in your adventure, you can engage in different virtual battles depending on the disc you have. You won't be using your own Pokemon in the Battle Sim -- instead, the Pokemon will be provided. Battles are cleared by meeting certain criteria (i.e. "Defeat the opponent within two turns!"). If you win, you get a prize. Even if you lose, you'll get some advice on battling so that you'll do better next time. The Battle Sim System is a mini game that helps improve battling techniques and is a great way for personal skill evaluation.
Battle Bingo

The Battle Bingo is a game of bingo involving Pokemon through the use of bingo cards. The object of Battle Bingo is to flip four panels in a row over, either horizontally, vertically, or diagonally. You achieve this by using a Pokemon (provided for each card) to battle for the panels. A Pokemon is revealed after a panel is flipped, which initiates a battle. You'll then decide to either "Battle" or "Catch" that Pokemon. The panel will then be flipped over if you either defeat or catch it. Additionally, catching the Pokemon will allow you to use that Pokemon for the rest of the bingo card. This is a mini game that tests your training skills as well as Bingo tactics.
---
Contest Rules/Procedures/Prizes
Please read the following carefully.
Participants must complete EVERY FIELD in the form below with accurate information
Participants must enter contest between September 26th and September 30th (5 days)
Participants under age 13 must ask their parents for permission before entering
Participants may only enter ONCE in the entire duration of this contest
Participants must be living within the United States. Mailing address must be correct!
Competition is based on the topic question below. The best responses will win. Participants must respond to the topic question in 1 (one) or 2 (two) complete sentences
6 (six) top participants/semi-finalists will be e-mailed by the webmaster (Mewtwo -- weicool@gmail.com) after each contest day. The first two participants to respond will be designated as winners/finalists (this is done to confirm mailing address and contact information)
2 (two) winners/finalists will be chosen for each contest day
A total of 10 (ten) winners/finalists will be shipped prizes at the end of this event
Prizes are: BUNDLE of Nintendo GameCube and Pokemon XD: Gale of Darkness
This is a contest where participants will need to respond to a topic question. The response must be in one or two complete sentences. You may not write more or less. It doesn't have to be complicated; all you need to do is get to the point. Consider the following question:
WHY ARE YOU A POKEMON FAN?
and respond to it in the designated box in the form below:
---
CONTEST HAS ENDED! Ten winners have already been chosen. If you were notified as a semi-finalist, replied to the e-mail, and didn't get a response, that means you didn't win. Congratulations to the ten people who did win! A Nintendo GameCube and Pokemon XD is coming their way!!
Many will enter, few will win. Winners will be chosen based on their response to contest topic. Each winner will receive a game bundle consisting of a Nintendo GameCube and Pokemon XD: Gale of Darkness. Any information deemed to be untruthful/unclear, and/or any entries with sections of the form not filled will not be entered into the contest; this is at the discretion of Pokemon Dream and Nintendo. Your information will be kept private, will not be given or sold, and will only be used for the purposes of this contest. Contest officially begins midnight (12:00 AM Pacific Time) of September 26th, and ends at 11:59 Pacific Time of September 30th. Entries received before or after the beginning or ending time will not be entered, whether or not the contest is up.