About Pokemon TCG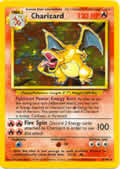 What is Pokemon TCG? Pokemon TCG stands for Pokemon Trading Card Game, meaning that the cards are tradeable as a collector's item, and can be used in a card game. These cards contain Pokemon with attacks that you can use as a trainer to battle with your opponent. It's not a real battle, but it's as real as it can be!
Pokemon TCG is a card game that is released in sets. Each set contains many Pokemon cards, Trainer cards that help Pokemon cards out, and Energy cards that give the Pokemon the energy required to use their attacks. Pokemon TCG is a very popular card game that many people, from kids to adults, play. It involves a lot of strategic thinking, deck building, and a lot of effort to win.
Pokemon TCG continues to be played by many people in many countries, and are valued at high prices. Whether you're a Pokemon collector or a Pokemon trainer looking for a Pokemon match, the Trading Card Game is essential to living the Pokemon life.
Links