Navigation
Key
Pokemon names with normal text color can only be found in both versions.
Pokemon names with this color are exclusive to FireRed.
Pokemon names with this color are exclusive to LeafGreen.
Pokemon FireRed/LeafGreen Walkthrough:
• Cerulean City, Route 24, Route 25, Route 5, Route 6
The City of Water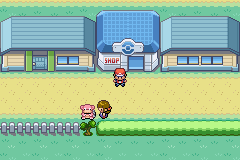 After a long walk in the wilderness, you finally arrive in civilization. This is Cerulean City, home of the second Gym. Heal your Pokemon and stock up on items. You won't be battling in the Gym first. Your rival, Gary, is waiting patiently for you. Let's not make him wait too long!
The Battle With Gary
Go north from Cerulean City towards Nugget Bridge, on Route 24. Gary will come and greet you, and will challenge you to a battle. He has the following Pokemon: lv. 17 Pidgeotto, lv. 15 Rattata, lv. 15 Abra, and lv. 18 of his starter Pokemon. This should be a much more challenging match than the last one. A Pikachu (can be caught in Viridian Forest) would help out a lot if you chose Charmander as your starter. This is because both Pidgeotto and Squirtle, the toughest Pokemon on Gary's team, are weak to Pikachu's attacks.
After one real tough battle, Gary will give you a Key Item known as the Fame Checker. This is used to identify trainers whom you've previously battled. Go back to town now and heal your Pokemon, and continue traveling on the Nugget Bridge.
---
There are six trainers on Nugget Bridge that you must fight to get past. The sixth trainer is actually a member a Team Rocket. Beat him, and he'll give you a Nugget that you can sell for $5,000. At the end of the route, you'll find TM45 - Attract. The fun on this route hasn't ended, although you can choose to go on to the next route. If you do feel like battling, however, then challenge the trainer in the grass area. After that, go on to Route 25.
---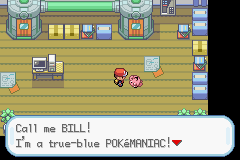 There are tons of trainers waiting to battle you on Route 25. Behind one of those trainers you will find TM43 - Secret Power. But that isn't the main reason you've come upon this route. You want to meet a scientist named Bill. Go all the way to the end of $0, and you'll arrive at a house called Sea Cottage. Go inside, and you'll see a Clefairy. It turns out that something went wrong with Bill's experiment, and the Clefairy is actually him. Talk to him, and he'll go inside his machine. Press "A" against his computer, and he'll be transported to the other end of the machine. Finally, he'll come out as Bill, a human scientist. Talk to him again, and he'll give you a S.S. Ticket for the S.S. Anne in Vermillion City. Now that that's taken care of, it's time to go back to Cerulean City and challenge the gym leader!
---
Water War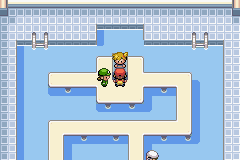 Cerulean City is the city of water. Naturally, Water Pokemon are what the trainers in the Gym use. There are two trainers you must battle before battling the gym leader, Misty.
Misty uses a lv. 18 Staryu and a lv. 21 Starmie on you. A Charmeleon under lv. 25 without any assistance would most certainly lose now. Of course, it's a totally different story with a Ivysaur. After beating Misty, she'll give you TM03 - Water Pulse and the Cascade Badge.
Now you can leave Cerulean City by going to the house with a policeman outside in the north-eastern section of the city.

Battle With Rocket Member
The house is a mess inside, because a Team Rocket member in the backyard has dug into their house. Fight that Rocket, and you'll get TM28 - Dig. It not only is a decent ground attack, but also takes the place of an Escape Rope.
---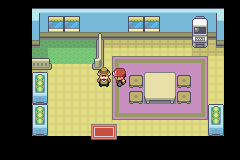 Now that you're on the other side, go south, and you'll find a house. That's the Day Care Center. The old man inside will raise your Pokemon's level ($100 for each level) if you leave it with him. The only bad thing is that your Pokemon might learn some unwanted moves, and delete moves that you want. The good thing is, if you were to leave a weak Magikarp with him, and walk for a while, it'll be able to evolve in no time into a powerful Gyarados! I highly suggest that you catch a Meowth on Route 25. Meowth is a special Pokemon in that once in a while an item mysteriously attaches to it. Many times the item is a Berry, but the items are not just limited to Berries. The entrance to Route 25 is closed, so you'll have to detour through the Underground Path to the next route.
Before entering the Underground Path, talk to the little girl if you want to trade your male Nidoran for her female Nidoran. You'll walk a long walk in the dark Underground Path. Soon, however, you'll see the daylight of $0.
---
Route 6 has six trainers waiting to fight but you can get by with fighting only two of them if you want. There's a lot of grass but no new Pokemon. Head to Vermilion City since once again the entrance to Saffron City is closed. Go all the way south, and you will arrive at Vermilion City.