Navigation
Key
Words that are in BOLD face shows that it is an item
Words that are UNDERLINED shows that it is a location
Pokemon names with no color can only be found in all versions
Pokemon names with a GOLD color can only be found in the Gold version
Pokemon names with a SILVER color can only be found in the Silver version
Gold/Silver/Crystal Walkthrough - Ilex Forest/Route 34 (Day Care)
Kwaa!
After Azalea Town, you'll enter the Ilex Forest, a forest with big trees, and something to do. You'll see a man standing near a cut-able bush. Talk to him, and he'll tell you that his boss's Farfetch'd got away. Walk deeper into the forest, and you'll see the Farfetch'd. Chase it around by pressing the "A" button. Everytime, it will say: Kwaa! Soon, the Farfetch'd will be chased back with the man. A new man is standing there also. Talk to this guy, and he'll give you HM 01 - Cut. Now cut the cut-able bush to go to the other side. All you have to do is press "A".

In Crystal version near the Celebi shrine, you can see Celebi flying around after placing the GS Ball into the shrine. To your left is a picture. However, this only appears in the Japanese version.
Headbutt Now!
After that, walk around and you'll find this guy who will give you TM 02 - Headbutt. This is a great and cool new TM that lets you shake those small trees for sleeping Pokemon.
Cut the bush that is right in front of the Celebi's shrine, you'll wind through the forest path until you come to a connecting gate. Inside is a girl who will give you TM 12 - Sweet Scent. It will attract Pokemon to you outside of battle.
Locations (Ilex Forest)
Crystal Locations
---
Route 34 (Day Care/Breeding Center)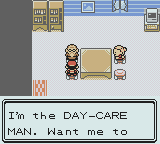 On Route 34, you'll find a house with an old man and woman in there. Talk to the man or the women and he/she will take one of your Pokemon to level it up. It's $100 to take them out or raise a level, a great deal. In the backyard of this house, you can breed your Pokemon. How? Just click here for the Breeding Guide.
The old man will give you an Odd Egg in Crystal. This egg will hatch into either Smoochum, Elekid, Cleffa, Igglybuff, Pichu, Magby, Tyrouge, or Togepi (one of the baby Pokemon. It is random what you will get. But the thing is, no matter what they hatch into, they will all have Dizzy Punch. There is a 50% chance of it being shiny, but if it's not, it'll have very bad stats.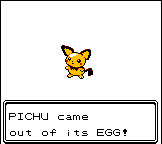 After a while of walking, this was what popped out of my Odd Egg. It's Pichu, and most people don't get that!
Before you enter Goldenrod City, there's a beach you might want to visit. Surf, go south, and you'll battle three trainers. Talk to the last trainer to get Soft Sand. It powers up rock-type attacks.
Locations (Route 34)
Crystal Locations
Items
HM 01: Cut
TM 02: Headbutt
TM 12: Sweet Scent
Odd Egg
Soft Sand