Navigation
Key
Pokemon names with normal text color can only be found in both versions.
Pokemon names with this color are exclusive to FireRed.
Pokemon names with this color are exclusive to LeafGreen.
Pokemon FireRed/LeafGreen Walkthrough:
• Three Island, Berry Forest
Saving The Girl
Once you arrive on Three Island, also known as Kin Island, you'll see a woman surrounded by Bikers of the Kanto Rider Federation. Go north and you'll see even more Bikers. You'll have to fight four Bikers consecutively. After defeating the fourth, the Bikers will leave. Talk to the nearest person for a Full Restore. Go all the way to the north and cut the tree on your right. Go down for a Zinc. Go west into the grassy areas, known as the Bond Bridge. Follow the path: get past the grassy area, bridge, and the beach, and go into the forest.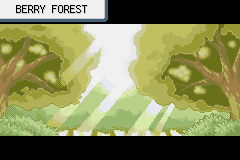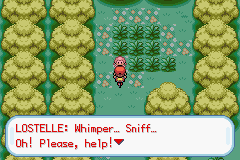 This forest requires a lot of tree cutting, but is pretty easy to get through. It's not necessary to cut tress at all, but it does make your trip faster. Go to the very end of the forest, where you'll find a little girl. That's Lostelle, the girl you've been trying to find. Talk to her, and she'll tell you a Pokemon has been scaring her. Then you'll find yourself fighting a lv. 30 Hypno. After defeating/capturing/running from the wild Hypno, Lostelle, who was picking Berries, will give you an Iapapa Berry. After that, you'll be taken back to the Lostelle's house on Two Island. Talk to the Lostelle's father to give him your Meteorite, and he'll give you a Moon Stone. Mini games can now be played in this house (the Game Corner) through the use of a Wireless Adapter.
Go back to One Island and talk to Bill, who's still inside the Pokemon Center. He'll take you back to Cinnabar Island. Whenever you want to access the Sevii Islands again, simple go to the port in Vermilion City to take the Ferry. It's now time to get your final badge, which takes us to Viridian City.